Stern's Graduate Finance Association Hosts 14th Annual Conference
"With roughly 200 attendees, some 20 speakers and representatives from 12 companies, the 14th Annual Graduate Finance Association (GFA) Conference offered students a unique opportunity to listen to and speak with leading professionals from nearly all corners of finance, including corporate finance, hedge funds, sales and trading, private wealth management and investment banking" said GFA member Mike Tarulli. The full-day event featured three speakers, seven panel discussions, a firm expo and a cocktail reception.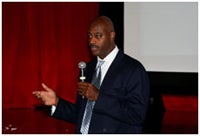 Jacob Silverman, chief financial officer of Duff & Phelps, a provider of financial advisory and investment banking services, discussed his early desire to "be his own boss" – a dream that led him to establishing his own M&A advisory firm and ultimately joining Duff & Phelps as CFO in 2004. Silverman urged attendees to "know yourself … so you can recognize when a position is a good fit."
Featured speaker and NYU Stern Professor
Charles Murphy
shared some anecdotes and words of wisdom from his 30+ years on Wall St. Having risen to head of Credit Suisse's global investment banking department, Professor Murphy spoke candidly about his experiences in investment banking. Echoing Silverman's sentiment, he underscored the importance of knowing and understanding yourself early in life. He stressed, "know what drives you, know when you need a change and most important, know when you're burning out." Professor Murphy also emphasized that it's possible to work in a demanding field, such as banking, and still maintain a stable family life.
The day's second keynote speaker, Ray McGuire, head of Global Banking at Citi, discussed the global nature of business and the extent to which investment professionals need to be cognizant of today's dynamic market landscape. He stressed the importance of taking hold of your own career and, when facing a crossroads, listening to the people that you trust most.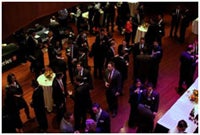 Attendees participated in two rounds of panel discussions on topics such as managing risk in capital markets, cross-border transactions and the role of corporate finance in the financial services industry.
The conference concluded with a cocktail reception, featuring representatives from companies such as JPMorgan, Goldman Sachs and Thomson Reuters, among others. Attendees had the opportunity to engage with company representatives in an intimate and conversational setting.
Find out more about Stern's Graduate Finance Association
---