Business Leaders Suggest Solutions for Challenges to Business and Society in the 21st Century
In November, the NYU
Pollack Center for Law and Business
, a joint initiative between NYU Stern School of Business and NYU School of Law, co-hosted the 1950th Meeting of the American Academy of Arts & Sciences, "Challenges to Business & Society in the 21st Century: The Way Forward." Rajat Gupta (Left), senior partner emeritus and former managing director at McKinsey & Company, and Roger Ferguson (Below), president and CEO of TIAA-CREF, spoke about recovery and reform, and long-term financial security, respectively.
Gupta discussed the need for an "adequate engagement model to bring together all stakeholders" worldwide to address the recovery of the global economy, the reduction of greenhouse gases and healthcare reform. He underscored the need for businesses to work together with NGOs, governments and non-profits to address these issues. He urged business leaders to seek "natural intersections between their organizations and society, mobilize other leaders and engage regulators, stand up and be counted, and work in partnership across sectors."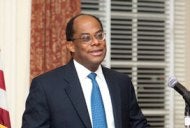 Roger Ferguson
Ferguson said he believes the lack of financial literacy in the US contributed greatly to the current financial crisis. He pointed out that Americans are responsible for their lifetime income and retirement savings now more than ever before, but the average American family will have only 2/3 of the income needed to retire. He suggested that the US create a holistic system that (1) ensures employees' full participation and automatic enrollment in retirement accounts with savings of at least 10-14 percent of their pay; (2) helps employees manage risk by offering them 15-20 options for diversified plans; (3) provides financial education to employees; (4) and offers incentives to employees to save for medical expenses that occur during retirement. He also advised businesses to focus on their own financial security by strengthening their risk management programs and resisting "short-termism" by focusing instead on sustaining their health for the long-term.
---