Stern Doctoral Alumni, Students and Faculty Gather for the First PhD Alumni Conference
The Stern
Doctoral
Office hosted its inaugural PhD Alumni Conference in May to bring together Stern PhD alumni, faculty and students in a day of reconnecting and engaging in new ideas. Attended by approximately 75 members of the Stern community, including alumni from the 1960s to 2009, the conference included a cocktail reception, remarks by Dean
Thomas F. Cooley
and PhD Program Director
Joel Steckel
, as well as two presentations by distinguished Stern alumni Michel Anteby, assistant professor of organizational behavior at Harvard Business School, and Aradhna Krishna, Isadore and Leon Winkelman Professor of Retail Marketing at the University of Michigan.
In his welcoming remarks, Steckel noted that Stern's academic placement of its PhD graduates was at a strong 90 percent, including placements at top schools such as Stanford, Wharton, Yale, Carnegie Mellon and INSEAD. Dean Cooley noted the importance of a PhD program to the research and teaching at business schools around the world.
Anteby presented his research on "Moral Gray Zones," specifically about the prevalence and culture of creating homers –artifacts manufactured in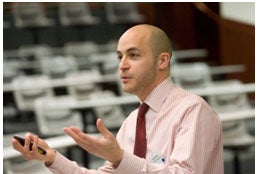 factories on company time with company materials or tools for personal use – at a French aeronautic plant.
Krishna discussed her creation of the new area of research and practice of sensory marketing – marketing that engages consumers' senses of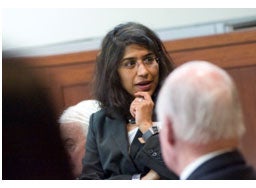 touch, taste, smell, vision and hearing, and affects their behavior.
The celebration ended with a cocktail reception featuring live music by the Stern Faculty Band, which includes, among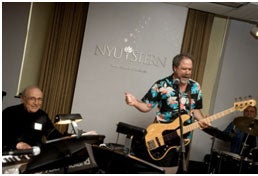 others, retired management professor
Dave Rogers
on keyboard, Vice Dean
Thomas Pugel
on guitar, economics professor
Luís Cabral
on saxophone and management professor
Melissa Schilling
on vocals.
---