Research Center Events
Advanced Valuation with Aswath Damodaran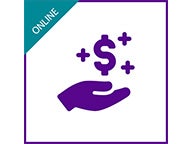 Dates
: January 24, 2022 - May 20, 2022
Cost
: $2,200
Whether it's managing a portfolio, preparing for an imminent merger or acquisition, or marveling over the newest dollar figure attached to a tech wunderkind, valuation is the key to parsing and understanding the numbers. Taught by Professor Aswath Damodaran, one of the leaders in the field, Advanced Valuation is for analysts, financial officers, and portfolio managers seeking a deeper understanding of valuation, and the skills and knowledge to confidently make financial decisions.
Through video lectures, live online meetups, and a hands-on valuation project, students will learn how to estimate the value of any business, small or large, private or public, in a developed or an emerging market. They will also be able to price businesses using earnings, book value, revenue, or other pricing multiples and comparables.
This course includes a free bonus course for students looking to enhance their accounting skills: Essentials of Financial Accounting taught by NYU Stern Professor Amal Shehata.
For more information on this course, please
visit the course webpage
.