Press Releases
NYU Stern Receives a $10 Million Gift for Scholarships for College Seniors Seeking their MBA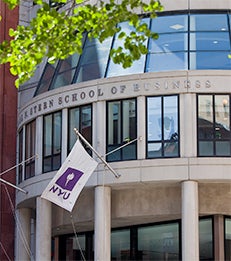 William R. Berkley, entrepreneur, Stern's Chairman of the Board and alumnus, and NYU Trustee, Creates Possibilities for Exceptional Undergraduates
With Bill's support, we have the opportunity to inspire the best young minds around the country and the world to dream big. - Dean Peter Henry
William R. Berkley, entrepreneur, Stern's Chairman of the Board and alumnus, and NYU Trustee, Creates Possibilities for Exceptional Undergraduates
Today, New York University Stern School of Business announced the establishment of
The William R. Berkley Scholarship Program
to support exceptional seniors who wish to pursue their MBA at Stern directly following college graduation. The scholarship program is named in honor of alumnus William R. Berkley (BS 1966), Chairman and Chief Executive Officer of W. R. Berkley Corporation, Chairman of the NYU Stern Board of Overseers, and Vice Chairman of the NYU Board of Trustees, who donated $10 million to create the program. Mr. Berkley's gift is one of the lead gifts in New York University's recently announced "Momentum Campaign" to raise $1 billion in six years for scholarships. To date, the University has raised $222 million for scholarships since this campaign commenced two years ago.
Immediately after graduating from NYU with a Bachelor of Science in 1966, Mr. Berkley pursued his MBA at Harvard. Through this new scholarship program, he aspires to create opportunities for talented seniors who want to pursue a similar path. "At 20 years old, I had big ideas and I was incredibly eager to get started. I knew the tools of an MBA would be essential, and I had no time to lose," says Berkley. "I had the rare opportunity to pursue my passion at a young age, and we want to bring to Stern the brightest students in the world who are ready to do the same."
"We're in the dream-enabling business at NYU," said Stern Dean
Peter Henry
. "With Bill's support, we have the opportunity to inspire the best young minds around the country and the world to dream big. Whether they've studied engineering or economics, physics or philosophy and everything in between, we want to put the tools of business into the hands of the most promising leaders of tomorrow."
The School will select a few Berkley Scholars each year based on the combination of stellar academic performance and exceptional potential to contribute to business and society. To be considered for The William R. Berkley Scholarship Program, interested college seniors apply during their senior year for any of NYU Stern's full-time MBA application deadlines: October 15, November 15, January 15 or March 15.
The William R. Berkley Scholarship Program will support college seniors who apply to NYU Stern's two-year full-time MBA program for admission immediately following their graduation. The program offers a scholarship that covers the full two-year tuition and fees, provides a housing stipend of $18,000/year and includes a $10,000/year stipend for books and other expenses. Berkley Scholars will also receive intensive mentoring from the Stern community.
About New York University Leonard N. Stern School of Business
Located in the heart of Greenwich Village, New York University Stern School of Business is one of the world's premier research and teaching institutions. NYU Stern offers a broad portfolio of graduate and undergraduate programs, all of them informed and enriched by the dynamism, energy, and resources of the world's business capital. Visit
www.stern.nyu.edu
and
follow us on Twitter @NYUStern
.
For more information, please contact
Joanne Hvala
or
Jessica Neville
in NYU Stern's Office of Public Affairs.