Business and Policy Leader Events
KKR's Ken Mehlman, Former Chairman of the RNC, Talks Business and Politics with Stern MBAs
As part of NYU Stern's Block Lunch event series, hosted by Dean Peter Henry, former chairman of the Republican National Committee Ken Mehlman, head of Global Public Affairs at Kohlberg Kravis Roberts & Co., engaged with more than 100 MBA students. Based on his experience in politics and, more recently, private equity, he shared some professional advice:
Figure out what you love doing and get paid to do just that
Be different and find ways to "monopoly price" yourself
Look for multiple opportunities to monetize your content
A great investor is one that invests in an enterprise before it's well known
Understand the "Potted Plant Theory" and know that sometimes you need a new "pot," or a new environment/industry/firm, to keep growing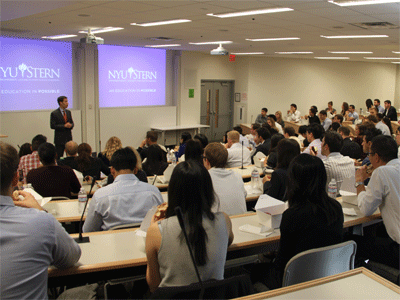 Mehlman also underscored the importance of corporate leaders thinking like owners and not managers, employing a long-term view rather than adopting a quarterly profit-driven mindset.
Over the course of the semester, students will have an opportunity to hear candid perspectives from thought leaders in various industries. Fall semester speakers include Hugo Lindgren, editor of
The New York Times Magazine
.
---