Prof. Pankaj Ghemawat Launches NYU Stern's New Center for the Globalization of Education & Management, with Special Guest Arun Kumar of the US Department of Commerce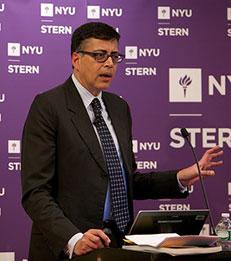 NYU Stern alumni, faculty, corporate partners and guests convened for the launch of the School's new Center for the Globalization of Education & Management (CGEM), which Professor
Pankaj Ghemawat
, who joined Stern's faculty full time this September, is leading.
Dean
Peter Henry
introduced Professor Ghemawat, who shared insights from the annual
globalization index
. Co-authored by Professor Ghemawat, the index examines the connectivity of 140 countries as measured by trade, capital, information and people flows. Underscoring the importance of global connectedness measurements, he described the study's "3D" approach, which looks at the
depth
of countries' cross-border interactions, their
directionality
(outward flows versus inward flows) as well as their geographic
distribution
(breadth).  Professor Ghemawat shared a few key findings:
Top 10 countries in terms of depth, breadth and overall globalization
Countries with the largest rank increases/decreases
Status of the globalization recovery post-financial crisis
The role of emerging economies in the future of globalization growth
Research and policy implications
Challenges for the US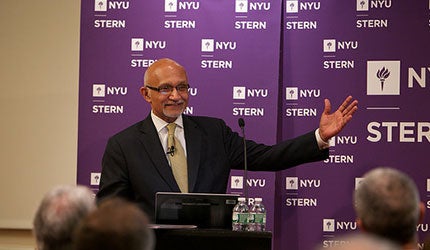 Special guest Arun Kumar, director general of US and Foreign Commercial Service and assistant secretary for global markets in the US Department of Commerce, International Trade Administration, discussed current government programs to enhance "global fluency" among US firms that are thinking about exports and engaging with emerging market countries. More specifically, he cited the Commerce Department's efforts to encourage trade with Latin America, strengthen ties with Asia and promote growth in Africa.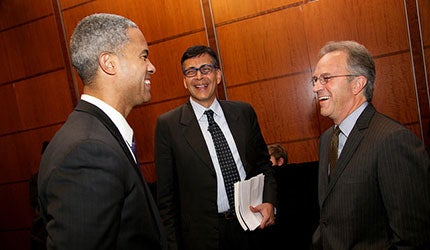 Chris Caine, director of the Center for Global Enterprise (CGE), spoke briefly about another major CGEM project, in collaboration with CGE, that will bring together leading academics and senior practitioners to develop insights into business models that promote speed and scale for global companies.
Watch the Video:
---