Research Center Events
CFM-FOWO Panel on the Future of Workforce Engagement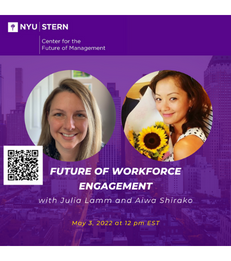 Date:
Tuesday, May 3, 2022
Time:
12-1pm (online)
How has workforce engagement changed over the past few years? What are employers doing to attract and retain high quality talent? Join us as we hear from two experts: Julia Lamm, Partner at PWC, and Aiwa Shirako, lead of Google's People Innovation Lab.
This event is co-sponsored by the
Center for the Future of Management
and the Future of Work & Organizations Initiative.
Click
here
for more information and to register.