Business and Policy Leader Events
Leadership Off the Record with Elana Drell Szyfer, CEO of AHAVA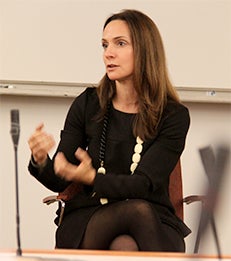 Know your influence and make decisions based on data, not emotions. - Elana Drell Szyfer
As part of NYU Stern's "Leadership Off the Record" series, Elana Drell Szyfer, CEO of AHAVA and Stern alumna (MBA '98), spoke with MBA students about her 20-year career in the beauty industry. Drell Szyfer described her professional journey, including stints at L'Oréal, Avon, Estée Lauder and AHAVA, and shared several lessons learned:
There's no such thing as job security
Don't underestimate the need for meaningful innovation
Sometimes you have to "eat humble pie" in order to move forward
Learn how to advocate for yourself in an authentic way, but keep in mind that nobody likes an "over-self-promoter"
Look for ways to help others in the organization anticipate needs and trends
Know your influence and make decisions based on data, not emotions
Make time to network across the organization (beyond your team) and outside of the organization
Drell Szyfer also shared exciting news about the next chapter in her career having recently accepted a position as executive vice president of global brand strategy at Kenneth Cole.
Coordinated by the School's Leadership Development Team, Stern's "Leadership Off the Record" event series gives students an opportunity to hear from senior executives in different industries on the challenges and lessons learned of being a leader.