Business and Policy Leader Events
Spotlight on Consumer Finance at 11th Annual NYU Stern-Citi Conference in Leadership & Ethics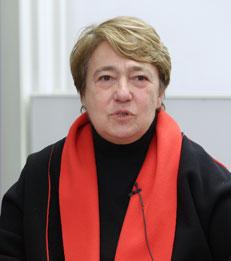 We need a new generation of financial leaders committed to helping re-earn consumer trust and change that perception.
The 11th Annual NYU Stern-Citi Conference in Leadership and Ethics addressed the theme of "Frontiers in Consumer Finance"
Organized by NYU Stern's
Citi Leadership & Ethics Program
and
Business & Society Program
, with generous support from the
Citi Foundation
, the 2014 conference featured this year's Distinguished Citi Fellow in Leadership & Ethics
Ellen Seidman
, former director of the US Treasury Department's Office of Thrift Supervision and senior fellow at the Urban Institute.
"The financial crisis has left us with a legacy of distrust in consumer financial markets," explained Brandee McHale, chief operating officer of the Citi Foundation, in her opening remarks. "We need a new generation of financial leaders committed to helping re-earn consumer trust and change that perception."
In her keynote address, Seidman reflected on the history and the future of consumer financial services. She said that two areas, in particular, are in desperate need of improvement and warrant additional attention – loan servicing and debt collection. She also outlined the Center for Financial Services Innovation's (CFSI) four "Compass Principles" aimed at rebuilding trust in the industry:
Embrace inclusion – responsibly expand access.
Build trust – develop mutually beneficial products that deliver clear and consistent value.
Promote success – drive positive consumer behavior through smart design and communication.
Create opportunity – provide options for upward mobility.
Additionally, Seidman emphasized the CFSI's six core values:
Financial services must be profitable and scalable.
Financial innovations must be based on deep customer knowledge.
Safety is fundamental.
There is value in variation and choice. One size does not fit all.
Long-term customer-provider relationships must be committed to mutual success.
Cross-sector participation encourages trust.
Watch Ellen Seidman's talk: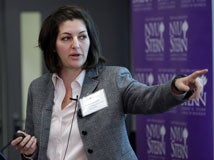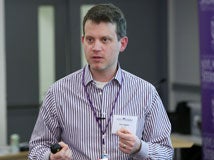 Rachel Schneider, senior vice president of insights and analytics at CFSI, and Tim Ogden, managing director of the Financial Access Initiative at NYU, delivered a presentation entitled, "Who Are the Consumers of Financial Services? A View from the US Financial Diaries Project." Schneider and Ogden shared a brief snapshot of their research examining how 200 US households over the course of 12 months manage and spend their income. The results of their study underscored the need for financial services innovation. Their findings included:
Income volatility is prevalent.
Multiple sources of income are common (only 1/3 of the sample had recurring employment income).
Expense spikes generally don't match shifts in income; 97% of households had at least one month where spending was greater than income.
Everyone has a "system" for handling their finances.
60% of Americans don't have enough money to get through the first month after they lose a job.
Financial literacy training has little to no effect.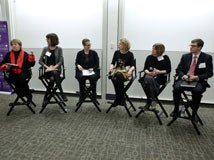 Seidman led a panel discussion on "What does 'Quality' Mean in 'Quality Financial Services?'" with Beth Brockland, director of compass principles at the Center for Financial Services Innovation; Sarah Ludwig, founder and co-director of the New Economy Project; Alex Plunkett of the Project Catalyst Program at the Consumer Financial Protection Bureau (CFPB); Linda Levy, CEO of the Lower East Side Peoples Credit Union; and Lisa Servon, professor of urban policy at the New School for Public Engagement. The discussion centered on three key themes – cost, transparency and service. In their concluding remarks, the panelists shared personal career insights with Stern students in the audience:
Find your niche.
Don't underestimate the importance of work-life balance.
Consider starting and ending your career in the public sector.
You'll learn something new in for-profit, nonprofit and government sectors – don't be afraid to try them all.
Financial technologies is a hot space to work in right now.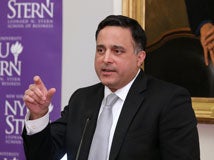 "Time is your only ticking clock; use it wisely and solve important problems," said luncheon keynote Raj Date, managing partner at Fenway Summer LLC. After describing his varied career, including stints in the private sector and in government, where he served as special advisor to the Secretary of the Treasury and deputy director of the CFPB, Date underscored the need for innovation in lending. He also outlined why he's optimistic about the future:
There are real problems that we can identify.
Change is inevitable.
Technology is better than ever!
We have a better regulatory framework than we did before the financial crisis.
Sometimes it's easier to start from scratch.
The Stern-Citi Distinguished Fellows Program identifies business leaders whose proven track records exemplify how business and government can address some of the world's most intractable problems, including poverty, homelessness and environmental concerns, and stimulate sustainable economic growth. Learn more about Ellen Seidman and the Stern-Citi Leadership & Ethics Program.
---