The Endless Frontier Labs, based at NYU Stern, graduated its 2021-2022 cohort of startups & alumna Elizabeth Elting (MBA '92) awarded funding to MarPam Pharma, TRIPP, and EV Biotech as part of The Elizabeth Elting Venture Fund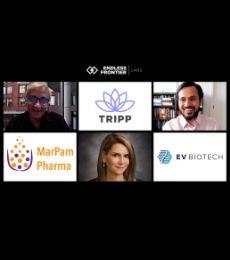 On May 5-6, Endless Frontier Labs (EFL), NYU Stern's hub for massively scalable tech and life science startups from around the world, celebrated its 2021-2022 cohort of graduating startups in its three tracks: Deep Tech, Life Sciences and Digital Tech, a third track that was introduced for the first time this year. Participating ventures included a startup that has an augmented reality platform at the frontiers of the Metaverse, another that is focused on a one-time cure for HIV, and a third that uses a mesh network to help those without the internet in Ukraine with long-distance communication. 
NYU Stern alumna Elizabeth Elting (MBA '92) has donated $2 million to EFL to provide investment funding for promising women-centric businesses that have successfully completed the program. Startup graduates
EV Biotech
 (Deep Tech),
MarPam Pharma
(Life Sciences) and
TRIPP
(Digital Tech) were awarded funding. 
EFL is a nine-month program designed for novel early-stage science and technology startups that engages a lineup of A-list business mentors, scientists, and venture capitalists joining forces with experts from many NYU schools. Startup founders also receive mentorship and business development support from Stern MBA students who are enrolled in a companion class taught by Professor Deepak Hegde, who leads EFL. Additionally, EFL is a "founders first" program, meaning it does not charge fees or take equity, making it accessible to startups all over the world, with no prior affiliation to NYU required. 
The program helps founders quickly advance and massively scale startups in addition to building a stronger MBA student experience. 
Today, EFL also announced that its
2022-2023 application
for next year's program is now open.
Read an
in-depth interview
with EFL Founding Director
Professor Deepak Hegde
on how EFL taps into the expansive human capital around NYU to help founders scale startups with massive global potential to improve lives in the Spring 2022 issue of SternBusiness.  
---