How to Build a Unicorn
—
Stern is now a hub for massively scalable tech and life science startups from around the world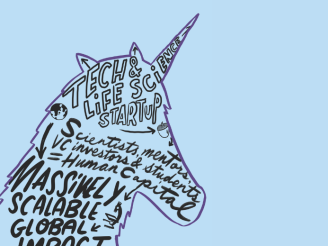 In 1982, the business world was in a starkly different place. Mobile phones and the world wide web were mere concepts. Major scientific and technological breakthroughs we take for granted today, from gene sequencing to cryptocurrency, were decades away.
That same year, NYU Stern — in a prescient move on the precipice of what we now call the fourth industrial revolution — launched the Center for Entrepreneurial Studies, which later became the Berkley Center for Entrepreneurship. On the eve of the startup revolution, Stern was ushering in a new era of preparing and supporting entrepreneurs, at all levels, in turning their ideas into marketable reality.
Stern has spent the decades since innovating in the entrepreneurship space, evolving its approach. The Berkley Center has become a proven hub of startup support for NYU students, alumni, and faculty, providing the resources and training needed to guide them from concept to launch.
Today, Stern's resources stretch far beyond its beginnings. Since 2019, Endless Frontier Labs (EFL) — which focuses on early-stage science- and technology-based startups — has become part of a university-wide startup ecosystem. This innovative and unique program involves a cadre of A-list business mentors, scientists, and venture capitalists teaming up with NYU experts to help advance and scale startups while enhancing the MBA student experience.
EFL is a 'founders first' program which does not charge fees or take equity, attracting startups from around the world, with or without prior affiliation to the University.



Customized Support for Massively Scalable, Big-Impact Solutions
EFL focuses on helping founders — whose innovations have massive global potential to improve lives — to scale their startups through a rigorous nine-month program.
In 2018, in partnership with the Rotman School at the University of Toronto, NYU Stern launched the Creative Destruction Lab-New York City (CDL-NYC).  A year later, this gave rise to Stern's own Endless Frontier Labs, tapping into the expansive human capital in and around NYU.
"EFL helps bring novel cutting edge scientific innovations to the marketplace," said Stern's Dean, Raghu Sundaram. "These are startups with massive disruptive potential to transform entire industries, appeal to huge markets, and solve the world's most pressing needs. We are uniquely positioned to convene the right mix of resources, given our proximity in a global center of tech, innovation, venture capital, and entrepreneurialism."
According to Deepak Hegde, EFL founding director and Stern professor of entrepreneurship, the program focuses on removing the barriers that entrepreneurs face while commercializing their ideas.
"Many brilliant ideas are conceived at academic departments in science-based or engineering schools," he said. "However, as they try to bring their ideas to the market, they struggle to find the right application. Existing resources do not provide such innovators with the personalized guidance needed to accelerate their commercial success. Providing such guidance can truly accelerate their progress and allow them to scale their ideas towards commercial and societal impact."
Hegde said the EFL looks for novel scientific or technological innovations that represent a substantial departure from the state of the art and require business guidance to uncover their commercial application.
"When founders come to us, they have brilliant technical solutions to technical problems," said Hegde. "We help turn the technical solutions into societal impact."  

Stern Taps Into Unmatched Mix of Mentor Talent
The key to EFL's process is its A-list team of approximately 130 mentors — eminent business leaders, angel investors, venture capitalists, and renowned scientists and technologists from within and outside of NYU — who provide personalized counsel and advice and set milestones specific to each founder's unique needs.
"The EFL is unique in having mentors who are outstanding scientists and technologists in their fields AND have experience in cofounding, capitalizing and leading life science companies. The mentorship that nascent startups receive from these mentors integrates deep scientific understanding with real world business acumen," said Chief EFL Life Sciences Mentor Bob Schneider, associate dean and professor, Radiation and Oncology, NYU Langone Health.
Over a nine-month period from September to May, EFL mentors work with founders in one of three tracks — Life Sciences, Deep Tech, and Digital Tech. Mentors set goals and deliverables in a series of eight-week sprints and act as an informal advisory board to guide founders on the best, most expedient path to scale their ventures.
Those startups who make significant progress during the program are typically able to attract financing from the investors who are part of the mentoring team. Because of its selection criteria the ideas represented by EFL startups aren't just new and innovative — they're potentially life-changing.
Shiru, for example, was founded by Jasmine Hume. The company is involved in engineering new proteins to create sustainable food solutions that can help future-proof the world's food supply. 
Another program graduate, Fakespot, uses AI to fight disinformation in online reviews. 
"They were the first startup to flag that up to a third of the reviews we see on sites like Amazon, TripAdvisor, and Yelp are fake," said Hegde. "They have an AI system that purges fake reviews and gives you a fake-adjusted review. It has the potential to drastically reduce this specific kind of misinformation, which is such a huge global issue today."
The EFL formula, still in its infancy, is itself scaling quickly. In the first year alone, EFL received nearly 10 times the number of applicants in relation to the number of slots available. In response, available slots more than tripled for year two, while the number of applications increased 160 percent. 
Applicants who make it through the program — and the examples are many — have already started to attract huge marketplace attention.

From Acorn to Unicorn
A prime example of EFL's potential can be seen in Immunai, a startup accepted into EFL's second cohort. Hegde said that the founders — computer scientists from some of the world's most prominent academic institutions — had a novel AI/machine learning algorithm, but didn't have a clear and marketable application for it.
EFL's mentors were able to define and fine tune the idea through a series of investigative and consultative steps and deliverables. The result: Immunai is building the world's largest and most granular database of the human immune system.
Over the course of the program the Immunai founders attracted significant interest among pharma partners. Today, the startup is considered a 'unicorn,' with a valuation far exceeding $1 billion.
"Immunai is a great example of the promise of innovation at the intersection of computer science and biology," Hegde said. "It was a win-win-win. EFL mentors were able to leverage their expertise to scale a startup with massive potential. The founders successfully launched a billion-dollar startup. And the world got a great new innovation that can lead to other discoveries and advances down the road."

Women-Led Startups Break Barriers
Industry leaders such as NYU Stern alumna Elizabeth Elting (MBA '92) are gravitating toward EFL's exciting new approach with enthusiasm and commitment.
Recently Elting donated $2 million to EFL as investment funding earmarked for promising ventures featuring women in leadership positions or women-centric businesses that have successfully completed the program — one of which was Martina Roos' startup, Sardona Therapeutics, who participated in the 2020-21 EFL cohort.
"EFL provided me the impactful experience to connect with distinguished entrepreneurs and accomplished biotech professionals who are also dedicated and committed mentors and sponsors," said Roos. "This world-class network aided Sardona Therapeutics in quickly building an exceptional team and advancing our platform technology of small molecule drugs that target RNA-binding proteins to overcome therapy resistance in cancer. EFL is an amazing opportunity, lifting up innovative founders and the next generation biotech leaders!"
Elting's involvement in EFL puts a spotlight — and offers solutions — on addressing the lack of women in STEM careers and the lack of access to funding among women entrepreneurs.
"The recent reporting for the U.S. puts the number of women-led startups that receive VC funding at around 4 percent," said Elting. "By contrast, more than forty percent of our startups are women-led. These are deeply scientific, technical startups led by women. I'm proud of what we're building here, it's a game-changer."
As an educator, Hegde is also proud of the fact that the EFL plays a dual role in benefitting MBA students. By involving them in the process, Hegde creates an opportunity for them to use skills learned in the classroom — beginning with helping select which startups to admit into the program.
"By involving our MBAs, we model for them how venture capitalists and investors might evaluate startups for investment," said Hegde. "It's an incredibly instructive approach that isn't based on synthetic case studies. It's real world, and they have the opportunity to be part of something that changes peoples' lives."
Aumna Iqbal (MBA '22) recently completed the program, working alongside entrepreneurs doing valuations, crafting pitch decks, meeting with VCs, and contributing to strategic plans. The process, she says, has been transformational.
"I came into EFL with an idea that I might be interested in entrepreneurship," said Iqbal, "but felt incredibly risk-averse and knew I wouldn't know where to start. At this point, I would be excited to start a company. And, I have a practical toolkit for how to go about it successfully."

Leveraging Human Capital
Dean Sundaram noted that the success of the startups coming out of EFL — with Immunai as a new high water mark — are powerful proof points of the program's unique model which, in just two years, has raised seed capital in the hundreds of millions.
"At the end of the day, it's not the process that differentiates EFL," said Sundaram. "It's the human capital. It's our position within NYU, our access to top scientists and technology experts, and our access to the global business and investment community. That's our recipe, the special ingredients that make this program one of a kind."
Sundaram notes that with four decades of experience in cultivating entrepreneurs, Stern is not only bridging a critical gap for founders of the future — it's making history.
"We're working toward a higher goal with EFL and with all of our entrepreneurial initiatives," said Sundaram. "We're in it to advance human welfare. That's what the world desperately needs right now, and it's what motivates all of us to keep innovating."  
Launching Big Ideas Begins in the Classroom
The current business climate requires entrepreneurs to be multi-talented innovators who speak the language of management, operations, marketing, strategy, and finance. Given that reality, entrepreneurship at Stern begins with a broad swath of academic courses and programs geared toward preparing the next generation of founders. Some examples:
Undergraduate Entrepreneurship Track—Designed to give students tools and insights required to increase their chances of startup success.
Entrepreneurship Co-Concentration—Helps students develop the perspectives and networks necessary to succeed as a startup founder in the digital age. 
BS in Business, Technology and Entrepreneurship—Four-year, STEM-certified program combines an entrepreneurial mindset with tech competencies.
Stern Venture Fellows (SVF)—Enables high-potential undergraduates, graduate students, and alumni entrepreneurs to advance their ventures during a customized summer program.
MBA Entrepreneurship and Innovation specialization—Provides tools and concepts necessary for careers as entrepreneurs or as investors in entrepreneurial ventures.
Andre Koo Tech MBA—Designed to position students to solve a range of real-world problems at the intersection of business and technology.
Illustrations by Joel Holland