NYU Teams Win $200K in Stern's 2012-2013 Entrepreneurs Challenge
NYU's most promising innovators received a combined $200,000 in startup cash at the annual $200K Entrepreneurs Challenge held by NYU Stern's
Berkley Center for Entrepreneurship & Innovation
. The four winning teams composed of students, alumni and faculty from seven different schools across campus, were chosen after pitching their ideas and enduring grueling Q&A by judges from venture capital, technology and design, and social enterprise sectors.
New Venture Competition Winner
The $75,000 Rennert Prize, made possible by a gift from Stern Board of Overseers member Ira Leon Rennert (MBA '56), was awarded to
Smart Vision Labs
. Co-founders Marc Albanese (MBA '08) and Yaopeng Zhou (MBA '14) developed a portable vision examination device, the Smart Aberrometer. The pocket-sized, low-cost device uses the flashlight and camera of a smartphone, combined with an add-on micro-lens array to measure refractive errors of the eye and generate prescriptions.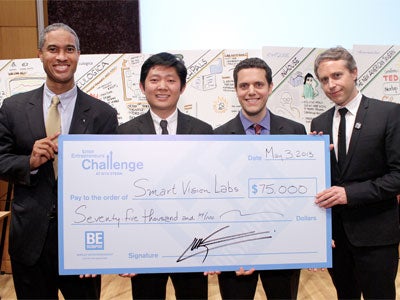 Social Venture Competition Winner
The $50,000 Social Venture Prize went to
Kinvolved
, a program that aims to reduce truancy by providing real-time data to teachers, families and students on classroom attendance and facilitating partnerships between schools and community organizations to increase student engagement. Kinvolved is the brainchild of Miriam Altman (Wagner MPA '13), Alexandra Meis (Wagner MPA '13) and Barrie Charney Golden (Stern MBA/MPA '14).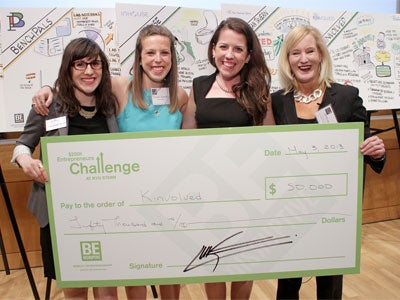 Technology Venture Competition Winners
Two teams split the $75,000 Technology Venture Prize.
Oculogica
was awarded $50,000 to continue work on a diagnostic device that detects and quantitates the extent of concussion, structural brain injury and other diseases affecting brain function. Unlike imaging studies, which reveal what the brain looks like, their technology captures how well it functions. Stephan Ogilvie (MBA '04), Robert Ritlop (MBA '14) and Uzma Samadani, MD, PhD, FACS, FACS of the NYU School of Medicine Faculty, believe the technology will help evaluating treatments for concussion as well as determining when brain injured people can return to work or play.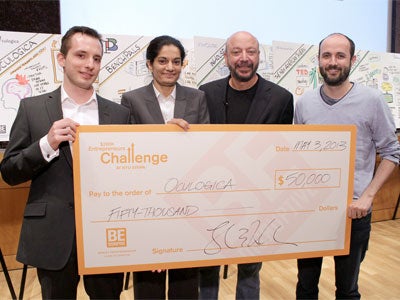 Also receiving a nod from the judges, and $25,000, was
Databetes
, a web and mobile-based software delivering users with data-driven, clinical and educational services. Developed by Doug Kanter and Ryan Viglizzo, students in the Interactive Telecommunications Program (ITP) at NYU's Tisch School of the Arts, and D'Arcy Saum, Databetes explores new ways to use data to improve health outcomes for people with diabetes.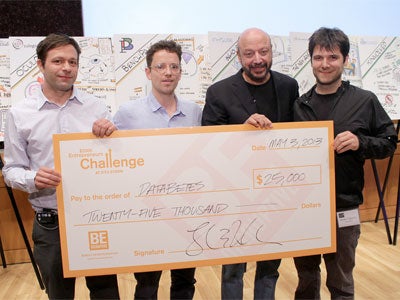 The Technology Venture Competition is co-sponsored by the NYU Innovation Venture Fund, EisnerAmper LLP, Lowenstein Sandler LLP and Medidata Solutions.
More on this year's Entrepreneurs Challenge
"Over the past eight months, our 12 finalists were provoked, prodded and praised by our coaches, mentors and evaluators," explained
Luke Williams
, executive director of NYU Stern's Berkley Entrepreneurship Center for Innovation. "In the end, each team emerged with a new business concept that imagines a powerful market disruption and a plan to transform it into reality."
"Great inventions have a long path from idea to commercialization," said Frank Rimalovski, managing director of the NYU Innovation Venture Fund and executive director of the NYU Entrepreneurial Institute. "The Entrepreneurs Challenge dramatically accelerates the process of getting potentially life-saving innovation out of the lab and into the marketplace."
"This year, we saw new ventures addressing a number of consumer, global and societal issues including diabetes, head trauma, home energy efficiency, sources of clean energy, waste management and resources for new parents," said
Jill Kickul
, director of Stern's Program in Social Entrepreneurship.
Audience Choice Awards
The audience also had a chance to vote for their favorite teams, selecting
BioInspired Devices
, which developed a urinary catheter aimed at preventing infections;
Kinvolved
; and
weeSpring
, a social shopping platform for new and expecting parents, as this year's Audience Choice Award recipients.
Communication Awards
In addition, faculty from Stern's
Management Communications
Department selected three winners for this year's new Communications Awards, recognizing
BioInspired Devices
,
Kinvolved
and
Keen Home
, which offers a wirelessly networked home air vent that maximizes the efficiency and comfort of a central HVAC system, for their exemplary presentations.
Mentor-of-the-Year
In recognition of the critical role volunteers play in mentoring, coaching, and judging the teams throughout the competition,
Stephen Garrow
(MBA '89) received this year's Mentor of the Year Award presented by the Berkley Center's Cynthia Franklin and Loretta Poole.
This Year's Judges
New Venture Competition: William Berkley, vice chairman of NYU Trustees, chairman of Stern's Board of Overseers and chairman & CEO of W. R. Berkley Corporation; Brian Cohen, chairman, New York Angels; Robert Fabricant, vice president of creative, frog design; Scott Kauffman, presiding director, MDC Partners; and Alan Patricof, founder, Greycroft, LLC.
Social Venture Competition: Daniel Katz, senior program director, The Overbrook Foundation; Jill Nagle, manager, Bridgespan; Michael Pollack, adjunct professor at NYU Stern and managing member of Pollack Holdings; and Hans Taparia, adjunct professor at NYU Stern and co-founder and president of Preferred Brands International.
Technology Venture Competition: David Aronoff, general partner, Flybridge Capital Partners; Micah Rosenbloom, venture partner, Founder Collective; Geoffrey W. Smith, managing director, Ascent Biomedical Ventures; David Tisch, managing partner at BoxGroup and co-founder and managing director of TechStars NYC; Fred Wilson, managing partner, Union Square Ventures.
---