Research Center Events
NYU Stern Center for Sustainable Business Hosts Panel on ESG and Impact Investing Across Asset Classes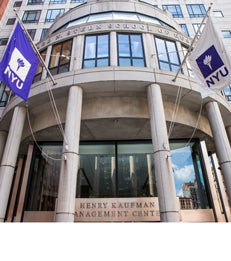 On April 23, NYU Stern's
Center for Sustainable Business
hosted a panel entitled, "ESG and Impact Investing Across Asset Classes."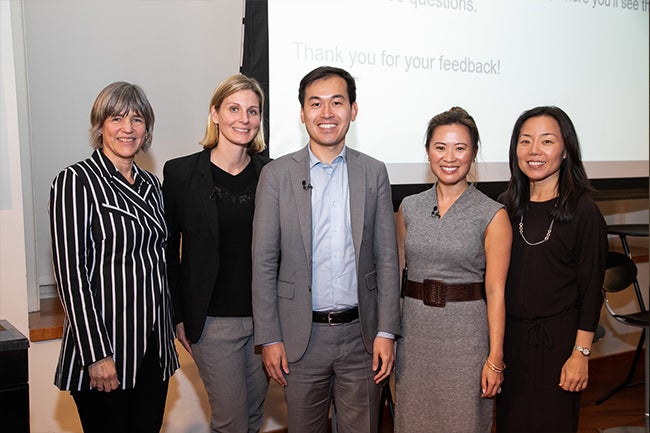 ©Slezak: Courtesy of NYU Photo Bureau
From left to right: Professor Tensie Whelan, Jessica Zarzycki, Lee Gao, Ailene Holderness, Kyung-Ah Park
The evening began with welcome remarks from Kyung-Ah Park, managing director and head of environmental markets at Goldman Sachs & Co.
"ESG and sustainability are becoming mainstream – both as a financial and a strategic lever for investors and companies." $GS' Kyung-Ah Park at an event co-hosted with @NYUSternCSB on impact investing pic.twitter.com/LIhwWjVqy4

— Goldman Sachs (@GoldmanSachs) April 24, 2019
The discussion, which was moderated by Professor
Tensie Whelan
, explored how investors across fixed income, public equity and private equity investing strategies integrate ESG and impact into investment decisions.
©Slezak: Courtesy of NYU Photo Bureau
Professor Tensie Whelan moderates the discussion on the challenges facing ESG and impact investors
Happening now: CSB Director @TensieWhelan moderates our panel organized in partnership with @GoldmanSachs in which speakers from #GoldmanSachs, Pegasus Capital Advisors and @NuveenInv will provide insight on #ESG integration and #impactinvesting strategies pic.twitter.com/OOiUu8k5Xm

— NYU Stern Center for Sustainable Business (@NYUSternCSB) April 23, 2019
Panelists reinforced the idea that environmental, social and governance (ESG) and impact investing is not 'one size fits all,' sharing success stories from a variety of industries.
Panelists included:
Lee Gao, co-portfolio manager, Imprint Emerging Markets Equity Fund, Goldman Sachs Asset Management
Ailene Holderness, vice president, Pegasus Capital Advisors
Jessica Zarzycki, senior director, co-portfolio manager and global sovereigns & emerging markets fixed income research analyst, Nuveen
For more information, please visit the
Center's website
.