Research Center Events
NYU Stern Hosts Third Annual FinTech Conference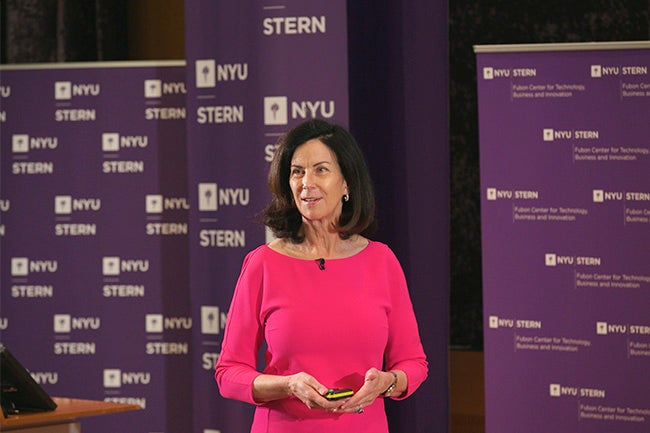 "We've moved well beyond the very beginnings of fintech," said Professor
Kathleen DeRose
, kicking off NYU Stern's
third annual Fintech Conference
, co-hosted by Stern's
Fubon Center for Technology, Business, and Innovation
on October 19. "We're starting to see the emergence of real platforms in finance."
The day-long forum, entitled
Data Science Disruption in Fintech
, convened top fintech academics, researchers, regulators, industry executives, alumni and students to debate and discuss the future of FinTech 2.0, including commercial uses for machine learning, academic insights into cryptocurrencies and the limits of algorithmic automation and fairness.
Highlights from the conference included keynote addresses from Matt Harris, Managing Director, Bain Capital Ventures and Adrienne Harris, Chief Business Development Offer and General Counsel, States Title, Inc. and former Special Assistant for Economic Policy to President Obama at the White House National Economic Council, as well as panel topics ranging from Initial Coin Offerings (ICOs), crypto-assets, data aggregation and alternative data in fintech and credit assessment and payments.
During the morning session, Professor
Hanna Halaburda
served as the chair for a research session on financial innovation via machine learning and blockchains before Professors
David Yermack
and
Yannis Bakos
offered insights on the proliferation of ICOs.
Later in the day, Professor
Foster Provost
moderated a lively panel on the future of using alternative data for credit assessment and payment.
Conference attendees also had the opportunity to attend one of the following executive sessions conducted over lunch including:
Alternative Data Sets: How to Leverage Graph Databases to Create Alpha: Alberto Corvo, CEO and Senior Founding Partner, Motive Labs
Bond.AI, Demo Q&A: Uday Akkaraju, CEO and founder, BOND.AI
Breaking the Chains of Capital Markets: Hariton Korizis, Co-Founder & Chief Product Architect, ResonanceX
Creating Governance Mechanisms of Blockchain-Based Communities: Natalia Levina, Director, NYU Stern Fubon Center for Technology, Business, and Innovation
Cyber Security & Fintech – The Human Risk Factor: Stephen Burke, Founder, Cyber Risk Aware
Decentralizing the Monetization of Data Through Blockchain: Jane Yang, Co-founder, Cadence
Dream Forward, Demo Q&A: Michael Sanford, EVP, Dream Forward
FirstData: Opportunities and Observations in Big Data: Glenn Fodor, SVP - Competitive Intelligence, FirstData
Future of Insurance: Role of Technology (Insurtech) in the Transformation of the Insurance Industry: Cem Altuntas, Executive Director, Moelis & Company
High Quality Data and RegTech: Critical Ingredients for the Future of Financial Regulation: Richard Berner, Executive in Residence, NYU Stern School of Business
How Business Digitization, Artificial Intelligence, RPA and IoT will Impact Mergers and Acquisitions: Peter L. Frintzilas, Senior Vice President, Head of Corporate Strategy, General Manager, Banking
Impact of Blockchain, Digital ID and AI on Global Supply Chains: Roxanna Wall, Executive Director, Group Risk Control, Industry Collaboration Initiatives, UBS
Keeping Connected – AI as an Enabler for Expert Networks and Knowledge Management: Daveena Harris, Director, Group Risk Control, Industry Collaboration Initiatives, UBS
Legal Issues around Cybercurrency Funds: Arina Shulga, Partner, Ross & Shulga PLLC
Legal Status and Taxation of Cryptocurrency and ICOs: Krystyna Nyemchynova Ugryn, Co-founder and Partner, Brightman Fintech Law Firm
Open Digital Infrastructure in India Spurring Fintech Innovation: Smita Aggarwal, Director – Investments, Omidyar Network
Passion Investing for Retail Investors – an Overview of the Democratization of Passion Investing: Maximilian F. Niederte-Ostholt, Co-founder and CFO, Rally Rd.
Private Markets 2.0: Why Tech Firms Are Staying Private Longer: Kaylock Yam, Director of Investments, EquityZen
Security Tokens: The Next Evolution in Securities/Fund Raising: Sean Nasiri, Head of East Coast Operations, TokenSoft
Stratyfy, Demo Q&A: Laura Kornhauser, President and COO, Stratyfy
The Evolution of the Customer Experience – How InsurTechs are Leveraging Technology to Meet Today's Consumer Expectations: Aman Khaira, VP Product, CoverWallet
The Future of Real Estate: PropTech, Millennials, and Rentals: Daniel Poindexter, VP of Sales, Easy Knock
Thinknum, Demo Q&A: Katya Chupryna, Chief Strategy Officer, Thinknum & Securities, Intralinks
IBM Blockchain: Adam Mastrelli, Business Development-North America Lead, IBM Blockchain Ecosystem
To view a photo gallery from the event, please click
here
. More information on the event can be found by accessing the conference
website
.