Business and Policy Leader Events
Former Prime Minister Gordon Brown Stresses the Need for International Coordination to MBAs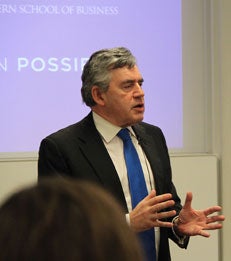 We need a declaration of interdependence. — Gordon Brown
"We are currently living through the most dramatic shift in global economic history," argued The Right Honorable Gordon Brown, former prime minister of the United Kingdom and NYU's first Distinguished Global Leader-in-Residence. As part of NYU Stern's Block Lunch event series, hosted by Dean
Peter Henry
, Brown spoke to more than 100 MBA students this week.
According to Brown, the world economy will double in size over the next 10-15 years. He pointed to rapid changes in consumer spending power as the middle classes in Asia and emerging markets grow in size and influence. "These massive changes will result in huge business opportunties," says Brown. In particular, he sees "knowledge-based" industries (e.g., inventors and innovators) benefiting hugely from today's changing global landscape.
"Limits have been placed on the speed and potential of economic growth," explained Brown, as a result of the failure to achieve international coordination. Emphasizing the importance of transparancy and accountability, he stressed the need for grobal trade policies, environmental regulations, and financial and tax reforms. "We need a declaration of interdependence," said Brown, arguing that today's global economy demands global solutions.
Exploring other factors that will contribute to a nation's performance in this new global society, Brown underscored the importance of investments in human capital, saying that education and innovation are going to be key elements for nations who win the global race.
Over the course of the semester, students had an opportunity to hear candid perspectives from thought leaders in various industries. Fall semester speakers included Hugo Lindgren, editor of
The New York Times Magazine
, and Ken Mehlman, head of Global Public Affairs at Kohlberg Kravis Roberts & Co. and former chairman of the Republican National Committee.