Business and Policy Leader Events
Innovation at Amazon: Discussion with David Nenke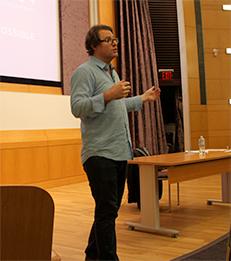 With Echo, we wanted to create a whole new unique platform.
On December 1, NYU Stern welcomed David Nenke, director of marketing and product for Cloud Drive and Amazon.com, for a special discussion with MBA students. Nenke shared his insights and information on the advanced technology of voice recognition software and the innovation behind Amazon Echo. 
 
Nenke opened his presentation by examining the timeline and challenges faced by the company when developing the Echo, citing Amazon's data-driven and customer feedback strategy. He noted that when the product was launched in November 2014, it was built with five specific skills, and just 24 months later, the number of unique skills had surpassed 5,000. Nenke said, "The possibility of using your voice to solve problems is a major part of our platform and our future as a company."
 
Following a brief discussion on the company's dedication to customer data security, Nenke fielded questions from the audience. 
---