Salomon Center Hosts Conference on Alternative Designs for a Modern Insurance Regulatory Structure
The insurance sector is an important part of the US economy; for example, premiums collected by life, health and property-casualty insurers totaled $1.28T in the US. The Dodd-Frank Act, signed into law in 2010 to ward off a future global financial crisis, did not radically alter insurance industry regulation but instead created the Federal Insurance Office to monitor the industry and to advise on how to modernize insurance regulation.
The NYU Stern
Salomon Center
for the Study of Financial Institutions recently hosted its third annual conference to explore several controversial issues related to modernizing the sector including: What roles should states, the National Association of Insurance Commissioners (NAIC) and the Federal Government play with respect to the regulation of insurance companies; are there changes that should be sought in modernizing the safety net for insurance; what are the criteria to determine whether an insurance entity is systemically important; and, more broadly, should there be changes to regulating the financial failure risk of insurance companies?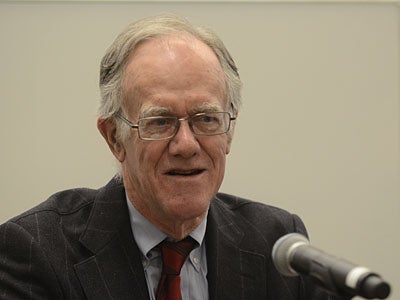 Professor
Matthew Richardson
, Director of the Salomon Center and a co-author of two books on financial regulation,
Restoring Financial Stability
and
Regulating Wall Street
, welcomed the day's attendees and spoke later in the day about insurance companies and systemic risk. Professor
John Biggs
, former Chairman, President and CEO of TIAA-CREF, introduced the morning keynote speaker, Therese Vaughan, Chair of the NAIC, who explained that the issue isn't about state vs. Federal but how to take the current state-based system and improve it. In fact, she said, one of the industry's greatest strengths is its decentralized decision-making process.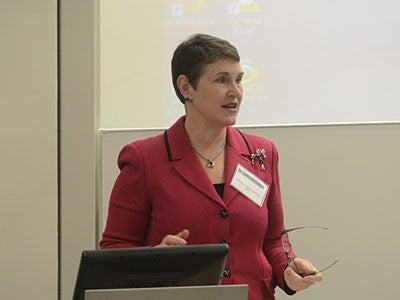 Panels held throughout the day focused on topics including risk, insurance guaranty funds and state vs. Federal regulation of insurance companies. Panelists included: John Biggs, Stern Professor of Finance
Viral Acharya
, former New York State commissioner
Eric Dinallo
, and Peter Gallanis, President of the National Organization of Life and Health Guaranty Associations (NOLHGA). At the end of the conference, S. Roy Woodall, independent member of the Financial Stability Oversight Council provided summary comments on the panels.
Founded in 1972 by a grant from the partners of Salomon Brothers, the Salomon Center specializes in the study of financial institutions, including commercial banks, investment banks, managed funds and insurance companies. Recently, the Center has played an important role in the development of the new architecture of global finance and has been instrumental in the organization of several NYU Stern School book projects:
Restoring Financial Stability
,
Regulating Wall Street
, and
Guaranteed to Fail: Fannie Mae, Freddie Mac, and the Debacle of Mortgage Finance
.
---