Business and Policy Leader Events
Spotlight on Digital Currency at Stern's MS in Risk Management Roundtable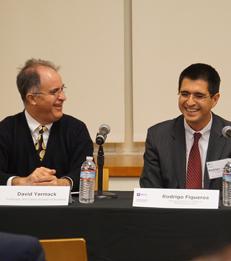 NYU Stern's
MS in Risk Management
(MSRM) Program hosted the second Risk Roundtable Series on Monday, November 9, 2015. As the financial services and banking industries see an increase in digital currency transactions, a panel of experts convened at NYU Stern to discuss cryptocurrency, providing students and alumni of the program with an opportunity to delve into this timely topic.  Moderated by Professor
David Yermack
, the panelists – Bobby Cho, director of trading, itBit; MSRM alumnus Rodrigo Figueroa ('13), managing director, Citigroup; and Maria Filipakis, executive deputy superintendent for capital markets, New York State Department of Financial Services – addressed issues ranging from securities trading to regulation.  
One of the most widely known digital currencies, Bitcoin, has gained market attention with its recent price movements. The growth of Bitcoin and digital currencies has also raised many questions in the financial and regulatory spaces. Current students and alumni from the MSRM program asked several questions of the panelists, addressing whether Bitcoin is recognized as a currency or a store of value, or a combination of both, and how that will impact regulation.
Another topic of interest at the Roundtable was cybercrime and security within digital currencies. Even though Bitcoin is pseudo anonymous, the recent development of blockchain can track each transaction allowing for more controls over the uses of Bitcoin. Specifically, the "closed network" can help address the validation questions raised by many large institutions while still utilizing the benefits of blockchain. In its current form, Bitcoin will continue to raise similar questions as adaptation continues to grow in the global economy.
The next
MSRM Risk Roundtable
will be held on Thursday, January 28, 2016 and will focus on Macroeconomic and Geo-Political Risk Trends.
---