Winners Announced in NYU Stern's $300K Entrepreneurs Challenge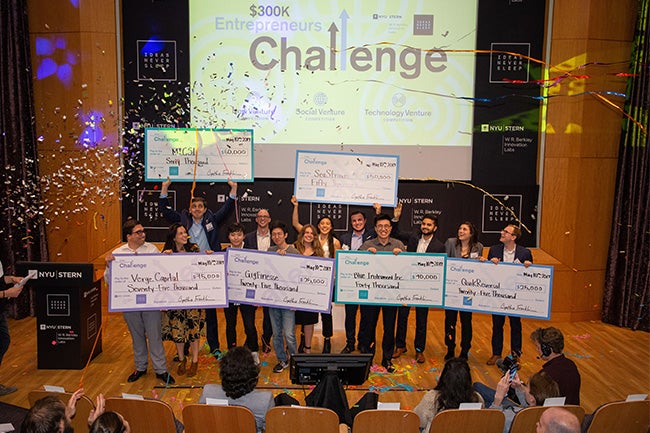 At the conclusion of an eight-month competition, NYU's most promising innovators received cash prizes and pro-bono startup services valued at more than $300,000 at NYU Stern's annual Entrepreneurs Challenge, organized by the School's
W. R. Berkley Innovation Labs
. The six winning teams were chosen after pitching their ideas and enduring Q&A by judges from a variety of sectors, including insurance, social enterprise, sustainability, venture capital, philanthropy and software.
May 10 marked the culmination of one of the largest and most rigorous venture competitions in the world. Some
243 teams
comprising more than 500 students, faculty and alumni from 19 schools across NYU's global network competed this year in one of three competition tracks:
New Venture
,
Social Venture
and
Technology Venture
. The awards presented in each category were:
Winners of the New Venture Competition: for startups in a variety of sectors
The $100,000 Rennert Prize, made possible by a gift from Stern Board of Overseers member Ira Leon Rennert (MBA '56), was split between
GigFinesse
($25,000) and
Verge.Capital
($75,000).
Founded by CAS undergraduate student Mir Hwang and Jong Wook Kim,
GigFinesse
is an online platform that connects artists and their fans to venues and their patrons, simplifies the booking process and protects both parties from experiencing a financial loss or a poorly planned event.
Founded by Stern alumnus Yiannis Giokas (MS '16) and Ioanna Stanegloudi,
Verge.Capital
will be a pan-European credit score provider that enables consumers and financial institutions to universally assess affordability and creditworthiness of individuals by utilizing machine learning on top of open banking APIs.
Winners of the Social Venture Competition: for social impact and sustainability ventures
The $75,000 Social Venture Prize was split between
QuikReversal
($25,000) and
SeaStraws
($50,000).
Founded by School of Medicine researcher Asher Varon and Morgan Cambareri,
QuikReversal
provides a wearable intranasal medicine patch that automatically detects opioid overdose and delivers naloxone without relying on bystanders or emergency response personnel.
Founded by Stern undergraduate students Antonio DiMeglio, Caitlyn Lubas and Nisarg Patel, and CAS undergraduate student Sophie Kennedy,
SeaStraws
is a sustainable products company, providing nationwide distributors and individual restaurants with disposable single-use paper products that minimize environmental impact. The company's mission is to transform hospitality through sustainable alternatives.
Winners of the Technology Venture Competition: to bring intellectual property developed at NYU to market
The $100,000 Technology Venture Prize, sponsored by the NYU Innovation Venture Fund, was split between
Blue Instrument
($40,000) and
MICSI (Microstructure Imaging, INC)
($60,000).
Founded by Tandon MS student Skandh Garg and Tandon PhD candidate Yi Yang,
Blue Instrument
proposes an IP-protected fiber-optic sensing system that will allow real-time detection of abnormalities in the operation of wind turbine blades, generating an alarm to warn of potential catastrophic failure.
Founded by Tandon PhD candidate Benjamin Ades-aron and School of Medicine PhD candidate Gregory Lemberskiy,
MICSI
offers medical imaging software for radiologists that can mimic millions of dollars of MRI hardware improvements for the price of software.
"As we look ahead, we're excited by the prospect of further strengthening the entrepreneurial ecosystem at NYU by fostering greater collaboration and even more interdisciplinary team building," noted
Deepak Hegde
, academic director of the W. R. Berkley Innovation Labs.
"For the past 20 years, the $300K Entrepreneurs Challenge has provided a springboard for launching exciting new ventures," said
Cynthia Franklin
, director of the W. R. Berkley Innovation Labs. "Challenge teams have gone on to be acquired by companies such as Amazon, Twitter and AirBnB. They have developed life-saving technology and life-changing innovations. We're proud of our long tradition of developing the entrepreneurial skill sets and mindsets of students and alumni from all across campus," added Franklin.
"Most of the teams that enter have no previous startup experience at all. For this reason, we provide extensive training, coaching and advising around the tools, frameworks and methodologies that entrepreneurs can use to increase their chances for success," explained Phoebe Punzalan, associate director of the W. R. Berkley Innovation Labs.
The finalist teams showcased their ventures through brief pitches and explainer videos before an audience of NYU students, faculty and alumni, as well as members of the broader NYC startup community, who voted for their favorite teams. This year,
GigFinesse
,
MICSI (Microstructure Imaging, INC)
and
QuikReversal
received the Audience Choice Awards, presented by Punzalan.
In addition, faculty from Stern's Management Communication Department selected three winners for this year's Best Pitch Awards, recognizing
Dotted Square Inc.
,
GigFinesse
and
React Power
for their exemplary presentations.  
In recognition of the critical role volunteers play in coaching and judging the teams throughout the competition,
Shanif Dhanani (MBA '12)
and
Jane Lauterback
received this year's
Mentor of the Year Award
, presented by Franklin.  
This Year's Judges
New Venture Competition:
William R. Berkley, Brian Cohen, Susan Danziger, Alicia Syrett
Social Venture Competition:
Saran Endline, Marissa Feinberg, Alberto Gomez-Obregon, Andrew Rasiej
Technology Venture Competition:
David Aronoff, Colin Beirne, John Elton, Rob Rosenberg
Find out more about Stern's Entrepreneurs Challenge
Visit the NYU Stern W. R. Berkley Innovation Labs website
Learn more about the NYU Entrepreneurial Institute
---