Press Releases
NYU Stern Announces Second Annual FinTech Conference Featuring Keynotes from Amazon and Bain Capital Ventures Executives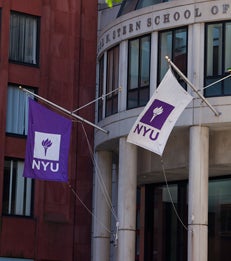 Full-day Event on November 3 to Highlight Key Trends in Automation, Financial Services, Financial Access, Payments and Regulation
Technology is reshaping the finance industry at a breathtaking pace, which has created a tremendous amount of momentum in FinTech.
Full-day Event on November 3 to Highlight Key Trends in Automation, Financial Services, Financial Access, Payments and Regulation
New York University's Stern School of Business, the first business school to establish a
FinTech specialization
for MBA students, will host its second annual FinTech Conference, entitled "
The Transformative Potential and Regulatory Challenges of FinTech
," on Friday, November 3, 2017.
The day-long forum will convene researchers, industry executives, alumni and students to debate and discuss the future of FinTech, the latest research in the dynamic field and the ways technology is reshaping the finance industry. Registration information is accessible
here
and highlights from Stern's inaugural FinTech conference in 2016 can be viewed
here
.
"Technology is reshaping the finance industry at a breathtaking pace, which has created a tremendous amount of momentum in FinTech," said
Peter Henry
, dean of NYU Stern. "By convening leading executives and researchers who are engaged in harnessing its potential, we can share new insights and ideas and help Stern students and alumni navigate future career paths."
The full
agenda
features expert conference participants and keynote speakers, including:
Professors Kathleen DeRose, Vasant Dhar, Sabrina Howell, Arun Sundararajan and David Yermack
Matt Harris, Managing Director, Bain Capital Ventures (morning keynote)
Scott Mullins, Amazon Web Services Worldwide Financial Services (evening keynote)
Leslie Picker, Reporter, CNBC
Gillian Tett, US Managing Editor, Financial Times
"As disruptive technology continues to alter the landscape of the finance industry, we are excited for the opportunity to foster a thought-provoking conversation at NYU Stern," said Professor DeRose. "The FinTech Conference brings together many of the field's top minds and offers an incredible chance to examine innovation at the intersection of finance and technology."
Panel topics range from automation in financial services, the regulatory landscape and cashless payments and investments. Doors open on November 3 at 8:00 am at the NYU Stern School of Business, Kaufman Management Center (KMC)
44 West Fourth Street
(cross streets: Greene and West 4th).
"The intersection of finance and technology is at an inflection point with the impact of technology poised to accelerate dramatically," noted
Raghu Sundaram
, vice dean of MBA programs and online learning at NYU Stern. "At Stern, we are committed to being at the forefront of this conversation, which will continuously shape how we educate our students."
The conference complements Stern's FinTech curriculum. In June 2016, Stern established the first FinTech MBA specialization at a top business school. The specialization offers a range of courses that address subjects impacting the industry today, including trading strategies; transaction security, trade clearing and settlement; data management; risk management; financial data analytics; regulation and the impact of digital currencies on the financial services industry; mobile payments; and entrepreneurial crowdfunding. A new course, Foundations of FinTech, launched in the Undergraduate College this fall, generating twice the expected enrollment. Additionally, in May 2018, the School will enroll the inaugural class in its new one-year
Tech MBA program
, developed through extensive conversations and in conjunction with industry advisors, including business leaders from Amazon, Buzzfeed, Citigroup, and General Catalyst, to name just a few.
About New York University Leonard N. Stern School of Business
New York University Stern School of Business, located in the heart of Greenwich Village, is one of the nation's premier management education schools and research centers. NYU Stern, whose faculty includes three Nobel Laureates in Economics, offers a broad portfolio of programs at the graduate and undergraduate levels, all of them enriched by the dynamism, energy and deep resources of one of the world's business capitals. Visit
www.stern.nyu.edu and
follow the conversation on Twitter: #SternFinTech @NYUStern.