Press Releases
NYU Stern Appoints Alumnus Andre Koo as Chair of the School's Board of Overseers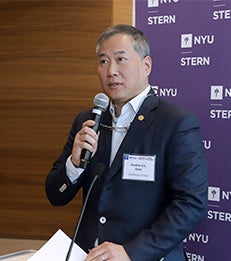 April 2, 2019, New York, NY—New York University's Stern School of Business today announced the appointment of alumnus Andre J.L. Koo (MBA '94), Chairman, Chailease Group, as Chair of the School's Board of Overseers, effective July 1, 2019. Andre Koo is the first internationally-based business leader to serve in this position.
He succeeds Alison Mass (BS '80, MBA '81), Global Head of the Financial and Strategic Investors Group in the Investment Banking Division, Goldman, Sachs & Co, who served a three-and-a-half-year term.
"Andre brings incredible talents to our School at an auspicious time of rapid innovation that enables us to deliver the most relevant educational offerings of our time," said
Raghu Sundaram
, Dean, NYU Stern. "His stellar reputation as a visionary business leader, global ties and appetite for meaningful change will propel us along our path as a school on the move. I'm honored that Andre has accepted this leadership role to work alongside me as Chair of the Board."
"It is a tremendous honor to assume the role of Board Chair and to continue to serve my alma mater, NYU Stern, in which I take great pride," said Andre Koo. "Today's business world is ripe with rapid change – which creates unparalleled opportunities – not only here in Stern's hometown of New York City, but all around the world. I'm inspired by our institution's potential to transform the future of business and its impact on people's lives."
About Andre J.L. Koo
Andre J.L. Koo is a member of the NYU Board of Trustees and has served on the Stern Board of Overseers since 2012. He is also President of the NYU Pan-Asia Alumni Association, which he established.
Andre and his wife Jana have created a legacy of support at Stern including: student scholarships; an endowed faculty Chair; the transformation of the Stern graduate building lobby into a vibrant environment for collaboration and conversation for the community; and most recently, with a landmark naming gift for the Andre Koo Technology and Entrepreneurship MBA program, which established a new category of focused MBA programs at the School.
Koo is Chairman of Chailease Group, which is comprised of Chailease Holding and Yellowstone Holding. Chailease Holding, the core Taiwan financial services company, was founded in 1977. It is listed on the Taiwan Stock Exchange and has operations in Taiwan, the United States, China, Thailand, Vietnam, Malaysia, Cambodia and the Philippines. Chailease Holding provides clients with leasing, installment sales, factoring and direct financing services. It is the market leader of leasing and installment sales in Taiwan, a top solar energy developer in the country, and the largest foreign-owned independent leasing company in China. Yellowstone Holding owns subsidiaries that engage in a number of diverse business activities including equity investment, industrial equipment sales, polymer processing and sales, real estate construction and development, interior design, private security, property management and hospitality.
About New York University Leonard N. Stern School of Business
New York University Stern School of Business, located in the heart of Greenwich Village, is one of the nation's premier management education schools and research centers. NYU Stern, whose faculty includes four Nobel Laureates in Economics, offers a broad portfolio of programs at the graduate and undergraduate levels, all of them enriched by the dynamism, energy and deep resources of one of the world's business capitals. Visit
www.stern.nyu.edu
and follow NYU Stern on Twitter: @NYUStern.