NYU Stern to Build In-House Simulations through a New Leadership Accelerator to Cultivate Skills and Agility among Full-time MBA Students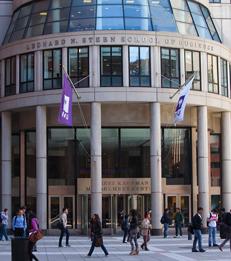 Today New York University Stern School of Business announced the establishment of a new
Leadership Accelerator
for its full-time MBA students.  Rooted in its 
six leadership core values
, the initiative's guiding philosophy is to immerse students in a sequence of experiential modules that trigger the need to act, and then reflect.  Unlike case studies that rely on best practices through passive learning, the Leadership Accelerator will create a continuous cycle of real-time actions, followed by reflections, to hone students' leadership agility and skills.
"Students don't develop as leaders simply through listening to speakers, discussing cases or learning theory. You can know the right thing to do in a given situation, but if you don't have actual practice in that situation, all your knowing can get crowded out by the rush of the moment," said
Nate Pettit
, Associate Professor of Management and Organizations and Director of Stern's Leadership Accelerator.  "Hands-on simulated experiences aim to accelerate students' leadership development by giving them the opportunity to confront difficult situations and then skillfully debrief the experience. Our core belief is that adults learn by doing, failing, and then acting again more wisely.  That's our intent with the Leadership Accelerator at Stern."
"The future of work demands business leaders with the skills and mindset to excel in environments that constantly change -- people who are nimble, adaptable, willing to take risks and agile in their ability to embrace and lead change," said
Raghu Sundaram
, Dean, NYU Stern.  "Under Nate's direction, the Stern Leadership Accelerator will serve as an incubator for this type of dynamic skill-building among our MBA students so they graduate ready to thrive in this new leadership paradigm."
Stern plans to build its own set of trademarked simulations in-house that will programmatically build on each other. Unlike traditional online simulations, these simulations will be high-engagement person-to-person experiences. Students will be challenged to push beyond their comfort zone and have the ability to take on roles and behaviors that they might not otherwise.
As a complement to the simulations, students will also have the opportunity to partake in a storytelling for leadership workshop, to be offered for the first time this spring, to hone their ability -- and their comfort -- sharing personal narratives to connect with and motivate an audience.
Currently, second-year MBA students have access to the
Leadership Fellows
program, which will reside in the Leadership Accelerator moving forward.  Along with personalized one-on-one support from Executives-in-Residence, this immersive mentorship program supports a selected group of students, including a once-a-month meeting as a cohort.  Students set and benchmark progress against a 100-day leadership development plan, engage with high-level speakers and participate in roundtable discussions.
About New York University Stern School of Business
New York University Stern School of Business, located in the heart of Greenwich Village, is one of the nation's premier management education schools and research centers. NYU Stern offers a broad portfolio of programs at the graduate and undergraduate levels, all of them enriched by the dynamism, energy and deep resources of one of the world's business capitals. Visit
www.stern.nyu.edu
and follow NYU Stern on Twitter: @NYUStern.
---