NYU Stern Faces of Change: Brooke Traister (MSQM '22), Master of Science in Quantitative Management
NYU Stern's
Master of Science in Quantitative Management (MSQM) Program
was launched as the first online Master's in Management in the US at a top-ranked business school. 
The MSQM program welcomes students with any undergraduate major and varying levels and types of professional experience — from early in their career to more experienced professionals. The 20-month program is designed to deliver a high-value degree that equips students to excel in today's data-driven business landscape, while continuing to work. Students take 22 courses, one at a time. Three of these courses are completed partly in person during two immersive four-day residential immersions. The online business degree also offers students a possible path to Stern's top-ranked Langone Part-time MBA program. 
Meet Brooke Traister (MSQM '22), Texas Instruments Employee and Executive Communications Manager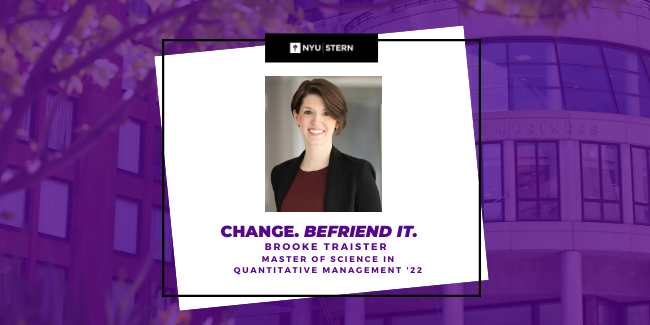 CHANGE. BEFRIEND IT. Brooke Traister (MSQM '22)
Current location: 
Dallas, Texas
Current company and role: 
Texas Instruments, Employee and Executive Communications Manager
What's one professional accomplishment you are particularly proud of? 
Last year, I co-led the launch of a new software tool at my company. It was a highly complex project because of the number of internal and external stakeholders involved – plus, the pandemic dealt us the added challenge of coordinating global press events virtually. Despite these challenges, however, it was a successful launch – we exceeded our campaign goals and even won an industry readers' choice award. Throughout all the twists and turns, this experience taught me how to lead through ambiguity and better adapt to change. 
Why did you decide to pursue your MS in Quantitative Management now? 
I'd been wanting to go back to school for years, and the pandemic motivated me to finally act on it. I had reached a point in my career where I wanted to grow as a leader and broaden my understanding of business and data. When I was researching schools and found Stern's MSQM program, it felt like the perfect combination of these interests.
How would you describe your classmates and why?
Wonderfully diverse, exceptionally smart, and terrific leaders. One of the great things about the online format is that we can be spread out across the country and the globe. Our backgrounds range from finance, IT, and marketing to supply chain, entrepreneurship, and law. We learn from each other's perspectives and expertise as much as we do from the courses we're taking. My classmates impress me and inspire me to achieve higher every day.
Who has been your favorite professor so far and why?
I've loved many professors in this program, but
Amal Shehata
stands out. Her passion for accounting was infectious, and she wove real-world examples into every lesson to bring the class concepts to life. It was a challenging class, but she was so patient and devoted to helping us learn the material.
Stern's brand call to action is all around embracing change. How do you see change and why? 
CHANGE. BEFRIEND IT. Because the future belongs to those who can successfully adapt. Make change your ally, not your enemy, and you'll go further.
---