School News
NYU Stern Faces of Change: Xinling Dai (MSDABC '21), NYU Shanghai-NYU Stern MS in Data Analytics & Business Computing
The NYU Shanghai-NYU Stern
MS in Data Analytics & Business Computing
(MSDABC) prepares pre-experience students with a strong analytical background for careers in Asia in the fast-growing field of business analytics. In the program, students learn how to use a data-driven approach to solve business challenges. With the interdisciplinary nature of business analytics, the program
offers a broad and rigorous curriculum
in business, data science and management science, covering topics including finance, marketing, statistics, data visualization, stochastic modeling and more.
The one-year, full-time MSDABC program is delivered over three semesters in the global hubs of New York City and Shanghai. The program emphasizes both quantitative and technical methods and their applications in different functional areas in business. Students benefit from the extensive industry experience of faculty from both NYU Shanghai and NYU Stern.
Meet Xinling Dai, NYU Shanghai-NYU Stern MS in Data Analytics & Business Computing '21.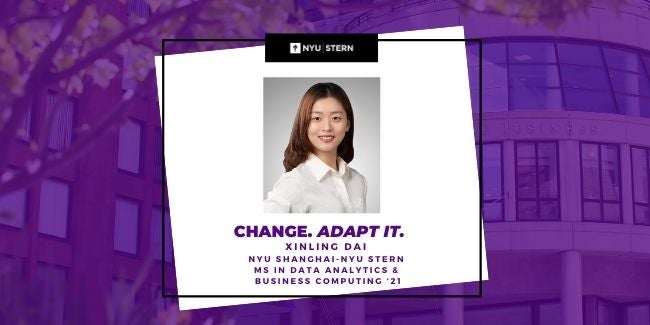 CHANGE. ADAPT IT. Xinling Dai, NYU Shanghai-NYU Stern MS in Data Analytics & Business Computing '21
Hometown:
Suzhou, China
Why did you decide to pursue your MS in Data Analytics & Business Computing? What made this program the best fit for you?
I chose this program because I love both math and computer science and this program is the best combination of these two disciplines. Besides, this is a job-oriented program that can teach me lots of practical skills along with theoretical knowledge to help me achieve my data-related career goals.
What are some of the benefits of the NYU Shanghai-NYU Stern joint program?
The joint program provides me the best opportunity to know great professors both from NYU Stern and NYU Shanghai. Based on the different backgrounds of the professors, I can learn different views and learn to see the world from different angles while learning knowledge.
What stands out to you about your classmates?
My classmates are all very studious and are active in looking for opportunities in work and life.
Who has been your favorite professor so far?
Renyu Zhang
is my favorite professor so far. He is very patient and willing to help. The extra after class explanation materials he wrote for us were extremely helpful to understand the course.
What has been your favorite course so far?
My favorite course so far is Optimization Modeling with Professor
Jiawei Zhang
, MSDABC Academic Director. This course combines modeling skills and programming techniques to solve real life problems, which I think will be very practical and useful in my future career life.
Stern's brand call to action is all around embracing change. How do you see change and why?
CHANGE. ADAPT IT. Because the only constant thing in the world is change.