NYU Stern launches a new, forward-thinking modular Executive Education course, "Frontiers of Finance," featuring an all-star roster of faculty from the School's top-ranked finance department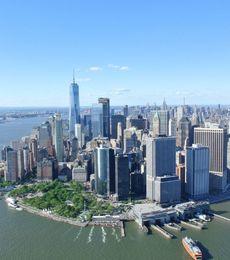 NYU Stern is launching a new, forward-thinking modular Executive Education course, "
Frontiers of Finance
," featuring an all-star roster of faculty from the School's top-ranked finance department, that will prepare finance professionals to lead through the seismic shifts reshaping the global financial environment. Classes will be held live online over 4 weeks starting May 18 through June 10, 2022.
Hear from Academic Director and Professor
Ingo Walter
:
1. What was the impetus for creating this course? 
At NYU Stern, we try to prepare students for change of all kinds. This includes the transformation of global financial instruments, institutions and markets. These dynamics show no sign of slowing down. So, finance professionals can benefit from reinforcing their critical thinking and ability to find innovative solutions for new financial challenges and new variants of traditional ones. This course brings together Stern's renowned faculty – each a thought leader in finance - to help participants anticipate and address key issues now on the horizon.
2. What will participants learn about and take away from Frontiers of Finance?
Many finance professionals are highly specialized - they tend to have concentrated, highly applied perspectives and skills in which they excel. To further careers it helps to become decathletes – to develop the ability to respond to a variety of challenges from a range of perspectives as the basis for general management decisions. Learning from and engaging with top Stern faculty will help participants reinforce these skills and highlight new ways of thinking that can be creatively and usefully applied.
3. What are some of the topics that will be addressed in the course?
How to interpret the impact of global shocks:
We are now experiencing political, economic, environmental and industry-specific issues arising on a global scale in rapid succession - sanctions, climate change, the pandemic, fintech and more. What are key concerns of research-informed faculty about how they will impact the world of finance - and more specifically finance professionals – going forward?
Key dimensions of ESG:
A new player in finance, the Environmental, Social, Governance (ESG) ratings industry, finds itself at a crossroads. What should be the operative ESG goals? How should ESG metrics be determined, weighted and aggregated? How should they be applied in the market by investors, fund managers, traders and other participants? In a world where abrupt shocks like Ukraine can dominate even the most careful ESG ratings of companies and countries, how robust are they as guideposts for management?
Big issues for corporate governance:
Are we entering a climate where the public expects companies in the financial sector to go beyond regulation and compliance and make decisions based on boardroom perceptions of the public interest - and those of fiduciaries holding proxy voting rights and acting in the best interests of their investor clients?
---