School News
NYU Stern MBA Students Win Second Place in Nationwide Small Business School Challenge Hackathon Supporting Businesses in Response to Covid-19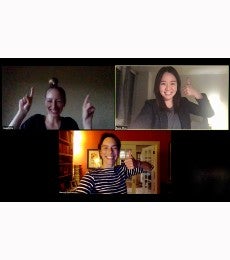 A team of NYU Stern MBA students won second place in
The Small Business School Challenge
, a 48-hour nationwide virtual hackathon launched to help support small businesses during the coronavirus pandemic. The Stern team included Fashion & Luxury MBA students Lisa Gehring (MBA '20), Hannah Gotfredson (MBA '20), and Becca Yu Zhou (MBA '20), and was one of 10 finalists. Their win resulted in a $2,500 prize that was donated to their small business client, Incasa Decor, and all the small businesses served by the other competing Stern teams.
More than 440 MBA students representing 10 official sponsoring schools and an independent track for students from other schools participated in the Challenge, including 55 Stern students from the School's two-year Full-time MBA, Andre Koo Technology and Entrepreneurship MBA, Fashion & Luxury MBA and Part-time MBA programs. The event, organized by Lifework, connected MBA student teams and business mentors with over 150 small businesses across the U.S. to help them prepare to thrive in the aftermath of the pandemic. The teams were tasked with creating innovative short-term and long-term strategies for their business owner clients, covering everything from business model adjustments to operations to marketing.
The two-day virtual hackathon included a kickoff event and Challenge launch, four business mentor workshops designed to inspire the teams, a networking event to share ideas and bolster support, and office hours with business mentors to help support the teams.
As the two days drew to a close, 16 Stern teams competed in the school-level of the Challenge and presented their proposals to a panel of six judges, including Stern Professor
Cynthia Franklin
, Director, Berkley Center for Entrepreneurship; alumna Belinda DiGiambattista (MBA '05), Founder, Choose Your Metric & Peer to Peer; alumnus William Hodash (MBA '90), Managing Director, Enterprise Data Management; alumna Susan L. Jurevics (MBA '96), General Manager, Audible; alumnus John Vermeer (MBA '12), Senior Vice President, iHeartMedia; and Gregory Ruben, Partner, Elysium Management.
Stern MBAs Lisa Gehring, Hannah Gotfredson and Becca Yu Zhou also won the Stern school-level competition for their proposal for Incasa Decor, an Astoria, NY-based contemporary home decor and accessories shop, and then proceeded to the national competition, placing in second. They were recognized by the judges for their focus on the story of the founder and his strong relationships with his customers and the community, as well as devising a plan that will be feasible for the founder to execute.
"The SBSC announcement came out in the first few weeks of quarantine when everyone was feeling a little (or a lot) scared, helpless, and disconnected," said Gotfredson. "The hackathon felt like a great way to support the community, connect with each other, and apply what we had been learning at Stern to a very pressing problem. The 48-hour turnaround, which overlapped with exams for all three of us, drove home the point that you just have to trust the process. We were making slides right up until we hopped on the final presentation call. The experience affirmed the value of what we had learned over the past year: we'd built up the tools here at Stern that allow us to create a solution to a problem that less than 48 hours ago we knew very little about. All three of us graduated this spring, and this was a really fulfilling way to wrap up our time at Stern."
According to Gehring, "We were able to leverage the storytelling and communication skills we developed at Stern to elevate our final presentation and delivery. Stern provided us with the tools to take our recommendation and format it into a story, rather than just a set of slides answering the required questions. We believed developing a narrative around Incasa's founder would provide a more compelling way to deliver the information we needed to in such a short period of time, and it would be more interesting to watch and easier to comprehend from a judge's perspective."
Zhou said, "I was excited for the opportunity to help small business owners navigate their business through this unprecedented time when I first heard about this initiative. Working on a real business challenge in 48 hours was absolutely hectic, but it also allowed our team to focus on what matters the most. I had a great time working with our client and was hoping to come up with an easy-to-implement solution to help recoup Incasa's lost revenue through new channels by galvanizing the strong local community. I also learned a lot from other teams at Stern and other b-schools' representatives in the national final. It was a great experience and I am thrilled to be able to help."
The Small Business School Challenge was offered to students as part of Stern's major new SternWorks initiative created this spring to connect MBAs with vital small businesses in need of help to share their skills and give back to the NYC community. By focusing efforts on the types of small businesses and nonprofits that are most acutely feeling the economic pain of the current crisis, the goal of the initiative is to provide students an opportunity to put their business skills to work for those who need support more than ever before.