NYU Stern Receives $50 Million Gift from Its Naming Benefactor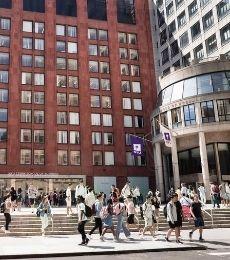 Leonard N. Stern's Gift Significantly Expands a Signature Access Program in the School's Undergraduate College
Today, New York University's Stern School of Business received a $50 million gift from alumnus 
Leonard N. Stern (BS '57, MBA '59)
 for undergraduate scholarships in the Stern School, enabling a significant expansion of the School's 
Breakthrough Scholars Leadership Program
. This gift comes on the heels of another $50 million gift also directed towards undergraduate scholarships earlier this month from NYU Stern alumnus and Chair of the NYU Board of Trustees William R. Berkley (BS '66) and his wife Marjorie.
"Unequal access to higher education is one of the great problems of our time. Leonard's gift is a wonderful show of leadership in this context, helping level the playing field. I am very happy to see Leonard and NYU Stern leading the way on this important issue," said Mr. Berkley.
The Breakthrough Scholars Leadership Program was established in 2015 through a pioneering gift of $5.75 million from Leonard Stern and exemplifies the School's commitment to making college accessible to highly talented and high-performing students from diverse backgrounds. Breakthrough provides full financial support but goes well beyond financial aid by working to equip this select group of students with the skills and networks needed to excel at Stern and beyond. The program has been hugely impactful with graduation rates of 100% in each of the three graduating classes to date; Breakthrough Scholars have held key leadership positions at Stern including President of the Student Council and Stern Commencement speaker, and have graduated into impressive professional careers at organizations ranging from Goldman Sachs and J.P. Morgan to Live Nation and Bloomberg Philanthropies. Leonard Stern's latest transformative gift will allow for a significant increase in the size of this program through the next decade by admitting a minimum of 20 new Breakthrough Scholars each year, beginning in fall 2022.
"We are deeply grateful for Leonard Stern's continued dedication to the Stern School," said NYU President Andrew Hamilton. "With this gift and the recently announced $50 million from Bill and Marge Berkley, NYU Stern has raised $100 million in new funding this year for undergraduate scholarships—a truly transformative step toward increasing access to one of the world's premier undergraduate business schools."
"Leonard has always shown extraordinary vision—from creating one campus for all students, undergraduate and graduate, through his naming gift in 1988, to funding the launch of the initial Breakthrough Scholars Leadership Program in 2015, to supporting this tremendous expansion of the program today. It is a matter of enormous pride for us to partner yet again with Leonard to increase access to, and further elevate, the Stern School," said Raghu Sundaram, Dean, NYU Stern.
"Students who have exceptional ability and fortitude, but lack the resources for a world-class education, deserve to have the doors at NYU Stern open to them. I encourage others to take on the challenge of access to education and change the lives of talented and deserving young people," said Leonard Stern.
About Leonard N. Stern (BS '57, MBA '59)
Leonard Stern is Chairman and CEO of The Hartz Group, currently one of America's largest private owners of industrial real estate, and a member of the NYU Stern Executive Board. He is a known philanthropist, who has focused his giving on education, medical research, and helping the homeless. His landmark naming gift in 1988 enabled NYU to consolidate its graduate and undergraduate business education facilities at Washington Square, creating the Leonard N. Stern School of Business. He also founded Homes for the Homeless, the largest nonprofit provider of residential, education, and employment training centers for homeless families in the country.
About New York University Stern School of Business
New York University Stern School of Business, located in the heart of Greenwich Village and deeply connected with the City for which it is named, is one of the nation's premier management education schools and research centers. NYU Stern offers a broad portfolio of transformational programs at the graduate, undergraduate, and executive levels, all of them enriched by the dynamism and deep resources of one of the world's business capitals. NYU Stern is a welcoming community that inspires its members to embrace and lead change in a rapidly transforming world. Visit 
stern.nyu.edu
.  
---