Press Releases
NYU Stern's Andre Koo Technology and Entrepreneurship MBA Program Announces Test-Optional Policy for Its May 2023 Start Date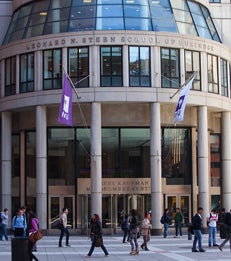 Specialized MBA delivers immersive experience with built-in access to industry, preparing grads to reenter the workforce with skills and networks in just one year
Specialized MBA delivers immersive experience with built-in access to industry, preparing grads to reenter the workforce with skills and networks in just one year
Today New York University Stern School of Business announced breaking news: its one-year
Andre Koo Technology and Entrepreneurship MBA
will shift to a test-optional policy for the current admissions cycle. Candidates applying to enroll in the May 2023 incoming cohort will not be required to submit a standardized test score regardless of their employment status.
"In the current climate of change and uncertainty in the tech sector, Stern is here to support tech professionals and entrepreneurs. The School offers the most relevant and efficient MBA option to learn quickly, engage with industry while riding out the storm, and emerge ready to reenter the workforce in 12 short months," said JP Eggers, Academic Director of the Andre Koo Tech MBA and Vice Dean for MBA Programs. "Stern's specialized program was explicitly designed for people in the tech and entrepreneurial space who want to strengthen their business foundation while gaining technical and business knowledge to accelerate their careers. And students earn the MBA in just one year, so time out of the workforce is minimized."
Stern's admissions process is holistic by design, meaning multiple inputs beyond test scores are always used to determine a candidate's academic readiness for the MBA experience. Measures include undergraduate major, work experience, and performance in both areas. These assessments are especially effective in helping to determine fit for a specialized program. Given how the time required to prepare for the test can be a barrier for the many highly qualified people who are looking for their next step right now, the School pivoted to a test-optional status to ease the burden. Applicants with a test score who believe it would help their candidacy are still encouraged to submit their test score.
Since launching in 2018, applications to the Andre Koo Tech MBA have been steadily on the rise, doubling in a five-year period. The most recent graduating Class of 2022 achieved a 100 percent employment rate after graduation. Additionally, the program has a history of gender balance, with the May 2023 cohort including 55 percent of the class identifying as women.
About the Andre Koo Tech MBA Program
The Andre Koo Tech MBA is a one-year, STEM-designated program that runs May-to-May and is celebrating its 5th anniversary this year. The program is designed to deepen students' foundation in business and expand their knowledge of technology through a customized curriculum with four major components: the Business Core, the Technology Core, Stern Solutions experiential learning projects with companies, and Electives. During their first summer, students participate in a New York City Immersion which this year included corporate projects with KPMG and Pfizer Health. In January, students embark on the West Coast Immersion to engage with companies in Seattle, San Francisco, and Los Angeles, new this year.
Interested applicants can apply by the January 15 or February 15, 2023 deadlines to be considered for the May 2023 start date. More information is available
online
.
About New York University Stern School of Business
New York University Stern School of Business, located in the heart of Greenwich Village and deeply connected with the City for which it is named, is one of the nation's premier management education schools and research centers. NYU Stern offers a broad portfolio of transformational programs at the graduate, undergraduate, and executive levels, all of them enriched by the dynamism and deep resources of one of the world's business capitals. NYU Stern is a welcoming community that inspires its members to embrace and lead change in a rapidly transforming world. Visit
stern.nyu.edu
.