Business and Policy Leader Events
NYU Stern's "In Conversation with Mervyn King" Series Presents Fareed Zakaria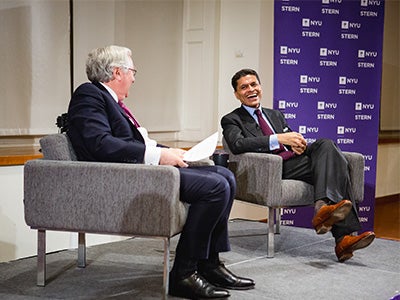 On December 7, NYU Stern's "In Conversation with Lord 
Mervyn King
" Series welcomed Fareed Zakaria, host, CNN's Fareed Zakaria GPS, and columnist,
Washington Post
.
Lord King and Zakaria discussed a variety of topics, including the current state of the economy, politics, globalization and how to maintain a balanced view both in business and as a citizen.
Watch the full discussion and see a selection of social media posts below:
The video can also be accessed
here
.   
Lord Mervyn King welcomes @FareedZakaria to #NYUStern #ZakariaAtStern pic.twitter.com/3L5K3ntChD

— NYU Stern (@NYUStern) December 7, 2017
"In Silicon Valley the business model is no longer that you do an IPO, it's that you sell to 1 of 5 companies. That doesn't sound like a free market" @fareedzakaria with Lord Mervyn King at #NYUStern #ZakariaAtStern pic.twitter.com/KerjCUPVqF

— NYU Stern (@NYUStern) December 7, 2017
"You are seeing a backlash in the Western world, and you're seeing it because the Western worker is facing pressures that are unusual" @FareedZakaria with Lord Mervyn King on #globalization #ZakariaAtStern pic.twitter.com/wiUgSpGue4

— NYU Stern (@NYUStern) December 8, 2017
---