Business and Policy Leader Events
NYU Stern's "In Conversation with Mervyn King" Series Presents Michael Lewis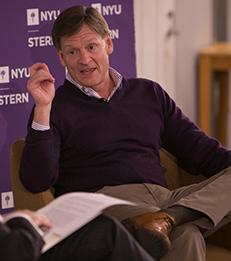 I believe I have a responsibility to share stories that are important. – Michael Lewis
On December 8, NYU Stern hosted the second installment of the "In Conversation with 
Mervyn King
" series featuring Michael Lewis, best-selling author of 
Liar's Poker
,
Moneyball
,
The Blind Side
and 
Flash Boys
, on his new book 
The Undoing Project: A Friendship that Changed Our Minds.
Lord King, former Governor of the Bank of England, Baron King of Lothbury, Alan Greenspan Professor of Economics and Professor of Economics and Law at NYU, moderated the one-on-one interview, followed by an open Q&A session.
Taking part in his first public event on
The Undoing Project
, Lewis shared insights on his writing process, noting that the piece was one of the most challenging projects of his career. He said, "This book isn't about me. It's about the material in which I'm entrusted to tell. It was a challenge but it was important enough to justify it because people cared."
Lewis also spoke to the audience of students and alumni about his unique ability to find and share worthwhile stories. He mentioned that in order for him to take on a new project, he must by moved by fascinating characters: "Finding a meaningful story that no one else finds meaningful at the time is the trick to me."
Lord King wrapped up the conversation with a reflection on the broad impact of Lewis' work before turning the floor over to the audience for questions.   
---