Press Releases
NYU Stern Tackles College Affordability with 34 New Full Scholarships for High-Achieving/Low-Income Students with its "Access Initiative"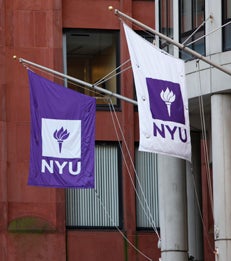 In just two years, NYU Stern has lifted the number of full scholarships from zero to 34 for high-achieving/low-income business students who are admitted to the School's Undergraduate College. Named
"The Access Initiative,"
the effort marks a radical change in the School's ability to open its doors to the most promising young people with extreme financial need.
"By removing the financial barrier for talented and deserving students, we can enhance our student community and create a positive ripple effect that benefits both NYU and the greater business community," said Peter Henry, Dean of NYU Stern School of Business. "In partnership with our supporters, we will work tirelessly to move this needle. By academic year 2018-2019, we are tracking to have more than 50 undergraduate students attending Stern free-of-charge."
Since joining Stern as dean in 2010, Henry, an economist, has sought to narrow the widening economic gap that limits educational opportunity based on income. Leonard N. Stern's landmark gift in February of 2015 established the first full-need scholarships and has since been followed by several donors, including Ed Barr, and Marie-Josée and Henry Kravis, among
many others
. To date, Stern has raised more than $100 million as part of the University's "Momentum Campaign," which in total has raised more than $500 million toward its goal of $1 billion exclusively for scholarship aid.
NYU President Andrew Hamilton has made educational affordability a top priority since his arrival in January 2016. Early actions have included the lowest increase in year-to-year cost-of-attendance in 20 years, freezing room and board at 2015-16 levels, and committing to a $15/hr minimum wage for student workers. He also appointed an Affordability Steering Committee to explore strategies to reduce the cost of an NYU education without hindering the University's research and educational missions.
"Affordability presents a challenge to the entire higher education community. NYU has heard the concerns from students and families, and is taking steps to act on them," said President Hamilton. "Strengthening university fundraising is one of many steps we are taking. The recent swell of scholarship support for undergraduate students at Stern – particularly the 'full-ride' scholarships – is emblematic of the progress we are making and will continue to make."