Professor Johannes Stroebel Wins 2023 Fischer Black Prize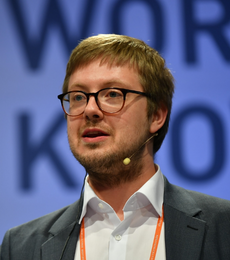 Biennial Prize Awarded to Leading Finance Scholar Under 40
Monday, January 9, 2023–
Johannes Stroebel
, the David S. Loeb Professor of Finance at New York University Stern School of Business, has received the
2023 Fischer Black Prize
from the American Finance Association (AFA). The award is given biennially to a scholar under the age of 40 to honor individual financial research. Professor Stroebel accepted the award at the AFA's Annual Meeting on Saturday, January 7.
"We are extraordinarily proud of Johannes for winning this distinguished award," said Raghu Sundaram, Dean, NYU Stern. "He is an exceptional colleague and a thought leader in the profession, including in important emerging areas such as climate finance and social networks, and this award is yet another testament to the enormous significance and impact of his research."
"Johannes's research is consistently at the forefront of academic and practical discussions, and I am thrilled that he is being commended for his scholarly efforts with this award," added Mor Armony, Vice Dean for Faculty and Research, NYU Stern.
Stroebel's research focuses on climate finance, household finance, social network analyses, real estate economics, and macroeconomics. In addition to the Fischer Black Prize, he has also won an Andrew Carnegie fellowship, an Alfred P. Sloan Research fellowship in economics, the AQR Asset Management Institute Young Researcher Prize and the Brattle Group Prize for the best published paper in the
Journal of Finance
. Additionally, in 2022,
Poets & Quants
named Stroebel on its list of best MBA professors around the world under the age of 40.
"Having the opportunity to work alongside such a creative and generous colleague has been one of the highlights of my career, and this prestigious award is richly deserved," said Professor David Yermack, Chair, Finance Department, NYU Stern.
"I am extremely honored to have won the 2023 Fischer Black Prize," said Stroebel. "I am glad that the award recognizes the advances made by me and many others in better understanding the economic and financial implications of climate change, and the importance of social interactions in driving economic decisions."
In addition to his work at NYU Stern, Stroebel is currently an Associate Editor at both
The Journal of Political Economy
and
Econometrica
, and is the Foreign Editor at
The Review of Economic Studies
. He is a research associate at the National Bureau of Economic Research, a research affiliate at the Center for Economic and Policy Research, and a research fellow at the CESifo.
About New York University Stern School of Business
New York University Stern School of Business, located in the heart of Greenwich Village and deeply connected with the City for which it is named, is one of the nation's premier management education schools and research centers. NYU Stern offers a broad portfolio of transformational programs at the graduate, undergraduate, and executive levels, all of them enriched by the dynamism and deep resources of one of the world's business capitals. NYU Stern is a welcoming community that inspires its members to embrace and lead change in a rapidly transforming world. Visit
stern.nyu.edu
.
---