See Possible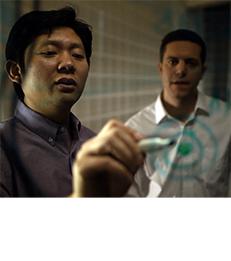 Don't underestimate the value of your network. We really can't say enough about the NYU community and how Stern has supported our venture every step of the way. - Marc Albanese (MBA '08)
MBA Student and Stern Alumnus Team Up to Bring Vision Care to the World
"Five hundred million people in developing countries lose their vision because they don't have eye glasses," explains MBA student Yaopeng Zhou. "Until now, there hasn't been a reliable, inexpensive way to do eye exams, particularly in emerging markets where doctors are few. Instead, determining an eyeglass prescription requires large, expensive equipment and patient feedback, which can be challenging when there's a language barrier."
Tackling this problem head-on, Zhou and NYU Stern alumnus Marc Albanese (MBA '08) have teamed up to develop a portable vision examination device, the Smart Autorefractor, which uses the camera of a smartphone combined with an add-on micro-lens array to measure refractive errors of the eye. "With just the click of a button today, we can generate an eye-glass prescription," says Zhou, co-founder with Albanese of Smart Vision Labs.
Old friends, Zhou and Albanese met at Boston University more than 10 years ago while pursuing graduate degrees in biomedical engineering and working on a faculty project focused on imaging the human eye. Each went their separate ways after graduate school – Albanese pursued an MBA at Stern and transitioned into a career on Wall Street and Zhou landed a position in GE's Healthcare division.
In April of 2012, Zhou hatched the idea for Smart Vision Labs, while simultaneously pursuing his own MBA at Stern. He reconnected with Albanese over drinks in Union Square and enlisted his help in making the Smart Autorefractor a reality. Not wasting any time, the two signed up for Stern's
Entrepreneurs Challenge
. "It was amazing. Through a series of boot camps and workshops with expert mentors, we learned how to write a business plan, how to test our thesis and how to tell our story to investors," recalls Zhou. "Stern's competition is almost another MBA in its own right," says Albanese.
And so far, these two intrepid entrepreneurs are making quite a splash! After winning the top prize of $75,000 in Stern's New Venture Competition last May, Zhou and Albanese earned one of 10 coveted spots and $100,000 in the Founder.org incubator. More recently, they won first prize and $1 million in the healthcare category of Verizon's Powerful Answers Challenge.
Coffers full and energized by the recent wins, Zhou and Albanese plan to hire more engineers, finish their research and development, refine the prototype and bring their product to market. First and foremost, they plan to launch the product in developing countries. "Rwanda, for example, is high on our list of launch sites, with 10.5 million people but only 14 vision specialists," explains Zhou. "We want to focus our efforts in markets where we can make the largest impact, including Africa, India and South America."
"By bringing diagnostic power directly to patients around the world, we're going to change the field of vision care fundamentally," claims Albanese. "But even more important, our device is going to help change the world. In fact, we know that if you enhance someone's vision in a developing country, you increase their monthly income by 20 percent – that's huge."
When asked what their biggest hurdles have been so far, Zhou explains that prioritizing can be tricky. "Our vision for introducing the product in developing countries is not a traditional move for most start-ups. It's more typical to see new products being launched in developed nations before they're tested in emerging markets. We're really flipping that model on its head."
Albanese also shared some tips for fellow entrepreneurs: "Find an idea that you love and do it. Passion is what gets you through the long and demanding days that all new ventures face. And don't underestimate the value of your network. We really can't say enough about the NYU community and how Stern has supported our venture every step of the way."
Watch Verizon's video on Smart Vision Labs
Watch as Zhou and Albanese pitch their idea to a panel of judges in Stern's New Venture Competition
---