SHA Conference 2023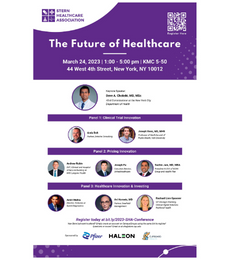 Date: Friday, March 24, 2023 
Time: 1pm-5pm ET
Location: 44 West 4th Street, New York, NY 10012, KMC 5-50
The Stern Healthcare Association is pleased to announce that our annual conference will be held on Friday, March 24th from 1:00 pm - 5:00 pm. The theme of this year's conference will be the Future of Healthcare, with exciting panels focusing on innovations in clinical trials, pricing, and investing. Our keynote speaker is Dave A. Chokshi, MD, MSc, the 43rd Commissioner at the New York City Department of Health who led New York City through the Covid-19 pandemic.
It is completely free to attend! Register here: https://cglink.me/2c4/r1925522
Non-Stern attendees can register by creating an account at this link.
---