Business and Policy Leader Events
Sharon Allen, Former Chairman of Deloitte, Shares Lessons Learned at Leadership Luncheon Series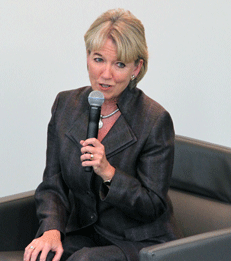 Get outside your comfort zone. Be willing to say "yes."
Sharon L. Allen, former chairman of the board of Deloitte LLP (2003-2011) sat down with
Thomas Pugel
, vice dean for MBA and executive programs and professor of economics and global business, and more than 100 MBA students in NYU Stern's Leadership Luncheon Series. Coordinated by the School's Leadership Development Team, the event series gives students an opportunity to hear from senior executives in industry on the challenges and lessons learned of being a leader.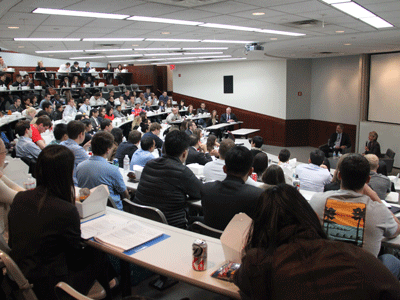 Allen shared several insights from her 38-year career at Deloitte:
Have a mentor and be a mentor.
Watch out for you own career. Make sure that your colleagues know what you are doing for the organization.
Be true to yourself. It's OK to have your own style of management.
Get outside your comfort zone. Be willing to say "yes."
Don't underestimate the importance of personal, face-to-face interaction.
Recounting the challenges that faced Deloitte, and the industry as a whole, following the Enron scandal, the enactment of the Sarbanes-Oxley Act, as well as the more recent financial crisis, Allen emphasized several key elements of good leadership:
Be willing to be firm about a tough decision.
Be willing to take suggestions and advice.
Learn to articulate your vision.
Understand that you can't do everything yourself and that you need to trust your team and share the challenges.