Sir Mervyn King, Former Bank of England Head, Joins NYU Stern and NYU Law as Visiting Professor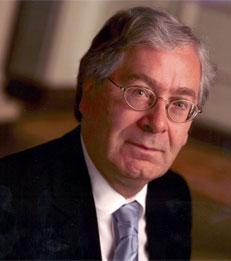 We are indeed fortunate to have someone of Sir Mervyn's stature and experience on the faculty at NYU Stern. - Dean Peter Henry
New York University Stern School of Business and New York University School of Law today announced that
Sir Mervyn King
, the former head of the Bank of England, will be a distinguished visiting professor at both schools in the fall semester. He stepped down from his position of Governor of the Bank of England on June 30, 2013, having served in that role for 10 of his 22 years at the Bank.
Sir Mervyn will be a professor in Stern's
economics department
as well as having an appointment at NYU's law school.
"We are indeed fortunate to have someone of Sir Mervyn's stature and experience on the faculty at NYU Stern," said
Peter Henry
, Dean of NYU Stern School of Business. "His more than two decades of experience at the Bank of England, encompassing his leadership through the 2008 financial crisis and its aftermath, will be a rich source of insight for the entire Stern community. Our faculty, who were themselves deeply immersed in research surrounding the issues, solutions, and dissection of the financial crisis, will especially benefit from Sir Mervyn's extraordinary role in guiding the Bank of England through this tumultuous period."
NYU School of Law Dean Trevor Morrison said, "Central banks, global financial regimes, and regulation of financial institutions are important areas of study at the Law School. Our faculty and students will benefit enormously by having Sir Mervyn here to share his expertise and experience on these topics, and we look forward to welcoming him to Washington Square."
Sir Mervyn served as Governor of the Bank of England and Chairman of its Monetary Policy Committee from 2003 to 2013. He had been Deputy Governor from 1998 to 2003, Chief Economist and Executive Director from 1991, and a non-executive director of the Bank from 1990 to 1991.
A graduate of King's College, Cambridge with a first-class degree in economics, Sir Mervyn also studied at St. John's College, Cambridge. He was a Kennedy scholar at Harvard University.
Sir Mervyn is a Fellow of the British Academy, an Honorary Fellow of Kings and St. John's Colleges, Cambridge, and holds honorary degrees from Cambridge, Birmingham, City of London, Edinburgh, London Guildhall (now London Metropolitan University), London School of Economics, Wolverhampton, Worcester and Helsinki Universities. He is a Foreign Honorary Member of the American Academy of Arts and Sciences.
About New York University Stern School of Business
New York University Stern School of Business, located in the heart of Greenwich Village, is one of the nation's premier management education schools and research centers. NYU Stern offers a broad portfolio of academic programs at the graduate and undergraduate levels, all of them informed and enriched by the dynamism, energy and deep resources of one of the world's business capitals.
About New York University School of Law
Founded in 1835, New York University School of Law has a record of academic excellence, national scholarly influence, and innovation in legal education. Its more than 100 full-time faculty members are leaders in fields including law and business, international and comparative law, constitutional law, and many other areas. NYU Law has also long been known for its deep commitment to public service.
For more information, please contact
Joanne Hvala
at 212-998-0995,
Jessica Neville
at 416-516-7677 or
Anna Christensen
at 212-998-0561.
---