Business and Policy Leader Events
Nate Berkus, Interior Designer and Author, Joins MBAs for Langone Speaker Series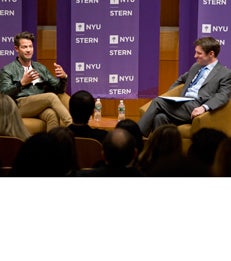 A home should tell the story of who we are.
Nate Berkus
, interior designer and author, joined MBA students and alumni for a 2016-2017 Speaker Series event. Dean of Students Conor Grennan moderated the one-on-one interview, followed by an open Q&A session.
"A home should tell the story of who we are," remarked Berkus. He went on to share his story, one of an established interior designer who has a passion for transforming homes and lives around the world. He credits his determined nature and love for decoration as what fueled his desire to enter the industry.
Berkus' career took off when he was 24 years old. He attributes much of his early success to
The Oprah Winfrey Show
, where he was a regularly featured guest. "Oprah changed the way I looked at business," he said when describing how he structures his own companies. Berkus also acknowledged the importance of the people with whom he surrounds himself. When hiring new talent, he looks for employees who are driven, genuine and share his long-term vision.
Throughout the interview, Berkus offered valuable advice to students and alumni as they pursue their own career paths:
Be gracious. People want to work with people they like.
If you start with your core joy, you will find the energy and passion to build something.
Don't be afraid of money -- don't be afraid to ask for it, collect it, lose it or earn it.
Manners and work ethic go a long way.
___
This Langone Speaker Series event was co-hosted by Stern's MBA Office of Student Engagement & W. R. Berkley Innovation Lab.