Business and Policy Leader Events
Neil Blumenthal, Co-Founder of Warby Parker, Joins Langone MBAs for Speaker Series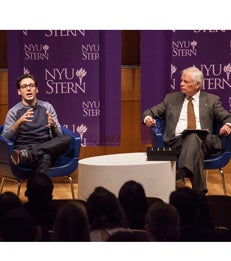 Starting a business is a collaborative effort. –-Neil Blumenthal
Neil Blumenthal, co-founder and co-CEO of Warby Parker, joined Langone MBA students for a 2013-2014 Langone Speaker Series event. Professor
Charlie Murphy
moderated the discussion, beginning with a one-on-one interview and followed by an open Q&A session with students.
Mr. Blumenthal shared his background and entrepreneurial story with Langone MBAs. He discussed how Warby Parker was conceptualized, founded and initially financed. He related a lot of his success back to what he learned during business school as well as the "power of the press." He touched upon how Warby Parker disrupts, hires, prices items and deals with competition and overseas relationships. Throughout the interview, he offered tips for students who seek an entrepreneurial career path:
Building a business is about "de-risking" a process.
Change is constant; change is the status quo.
Put yourself in your customer's shoes; create an awesome customer experience.
List your frustrations out for a month, and, from there, you might find your next business plan.
You're probably not the only person with an "original" idea, and, if you are, the world might not be ready for it yet.
Watch the video:
Warby Parker is a transformative lifestyle brand featuring designer eyewear. Prior to co-founding the company, Mr. Blumenthal was a director of the nonprofit organization VisionSpring.