Business and Policy Leader Events
Devon Pike, President of Givenchy US, Joins MBAs for Langone Speaker Series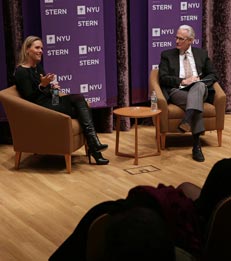 Be a team player but also be sure to choose the right partners.
Devon Pike
, president of Givenchy US and former CEO of De Beers, North America, joined MBA students and alumni for a 2014-2015 Langone Speaker Series event, presented by U.S. Trust. Professor
Jeffrey Carr
moderated the discussion, beginning with a one-on-one interview.
"In order to be successful, it was best for me to understand a little bit about a lot of things, rather than to know a lot about any one thing," Pike told a packed auditorium. She shared her experiences innovating to build brands in the luxury retail sector, having held leadership positions in companies including De Beers Diamond Jewelers, Juicy Couture and Ralph Lauren. From each of these roles, she said, she learned to embrace challenges, along with opportunities. For example, Pike developed the strategy to open the first Ralph Lauren Rugby store, to transition De Beers from a mining business into a retail business, and to manage a global partnership between De Beers and LVMH. This summer, Pike will direct Givenchy's latest undertaking: to launch New York City's first brick-and-mortar store.
Luxury brands are characterized by three key components, Pike explained: scarcity, quality and experience. She believes that luxury items provide a level of value that exceeds functionality – extending beyond the products themselves into a statement about one's lifestyle – through craftsmanship and sustainability. Pike also emphasized that luxury exists between categories, encompassing not only retail, but also dining, transportation and more.
Throughout the discussion, Pike offered advice for students and alumni who seek leadership roles in retail:
Get to know your customer authentically, and be prepared for a world that is constantly changing
Be a team player but also be sure to choose the right partners
Invest a lot of time in hiring the right people; the key to loyalty is people
___
This Langone Speaker Series event was co-hosted by Stern's MBA Office of Student Engagement & Berkley Center for Entrepreneurship and Innovation.