Business and Policy Leader Events
Frank Blake, Chairman of Home Depot, Joins Langone MBAs for Speaker Series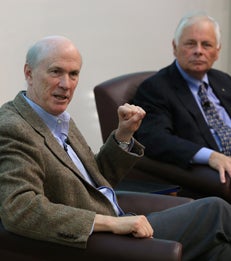 Observe others and absorb information.
Frank Blake
, Chairman and former CEO of The Home Depot, joined MBA students and alumni​ for a 2014-2015 Langone Speaker Series event. Professor
Charlie Murphy
moderated the discussion, beginning with an interview and followed by an open Q&A session.
The retail business has an enormous advantage over other industries because employees are also potential customers, Blake said, which means they can understand the business from multiple angles. Blake not only discussed the retail business, but also his professional background, and The Home Depot's strategy and culture.
Blake originally started his career as a lawyer, but transitioned into business while working in the industrial goods sector. After holding a variety of executive roles at one of the biggest conglomerates, GE, he moved to The Home Depot and took over as CEO in 2007. Blake led the company through the recession of 2008 and was faced with a multitude of challenges, including how to maintain employee morale. In effort to keep spirits high, The Home Depot offers stock options to store managers, holds national talent competitions for all employees and more. As CEO, Blake expanded the company's e-commerce and focused its retail strategy back to their core vision, which is excellent customer service.
"Customer service is a big deal for us," said Blake. He emphasized that the company looks for passionate and energetic employees that care about the customers and the company. He proudly stated that most of their corporate team started out as hourly associates. "It's important to us that our associates know we are greatly invested in them."
Blake wrapped up the interview by offering words of wisdom for aspiring retail leaders in the audience:
Don't worry about job titles or rank
Observe others and absorb information
Make sure your employees know that you care
Try to protect your customers the best you can