Business and Policy Leader Events
Bob Pittman, Chairman & CEO of Clear Channel, Joins Langone MBAs for Speaker Series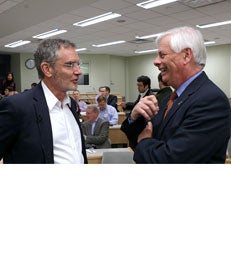 My brain is always thinking about what's next. --Bob Pittman
Bob Pittman
, Chairman and CEO of
Clear Channel
, joined Langone MBA students for a 2013-2014 Langone Speaker Series event. Professor
Charlie Murphy
moderated the discussion, beginning with a one-on-one interview and followed by an open Q&A session with students.
In a packed room of MBA students, Mr. Pittman shared his story, one of a chief executive who has a passion for solving problems, building brands and giving customers the convenience they desire with every business he influences. Mr. Pittman led an illustrious career as the CEO of MTV Networks, AOL Networks, Six Flags Theme Parks, Quantum Media, Century 21 Real Estate and Time Warner Enterprises.
Now, in his role at the helm of Clear Channel, he speaks of radio as a "reliable partner " whose resiliency in an ever-evolving digital world renders it a staple that has, and will continue, to play a meaningful role in people's lives.
Mr. Pittman concluded the interview with some relevant advice for the aspiring leaders in the audience:
Be willing to take a chance and try something new
Do something you love to do rather than for the money; otherwise, you'll spend more time working than actually enjoying the money you made
Be ready for the future, have an open mind and ask a lot of questions
Be willing to admit wrong decisions, and don't be afraid to make mistakes
Understand how to get people to work together as a team and learn how to keep them on track
Watch the video: