Business and Policy Leader Events
Ragy Thomas, CEO and Founder of Sprinklr, Joins MBAs for Langone Speaker Series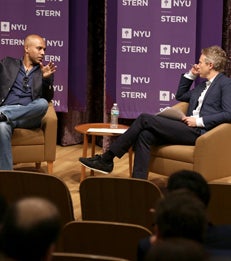 Ragy Thomas (MBA '03), founder and CEO of Sprinklr, joined MBA students and alumni for a 2016-2017 Speaker Series event, presented by U.S. Trust. Professor
Luke Williams
moderated the one-on-one interview, followed by an open Q&A session.
Sprinklr, an enterprise social media management platform founded in 2009, has raised more than $240 million in financing and employs over 1,400 people in 13 countries. What's Sprinklr's secret to success? "I knew it was a wonderful time to start a company. There was this evolution in communication where mobile and social media started changing the world," Thomas said. He also explained how the company focuses more on value creation than increasing sales, which keeps it a step ahead of its competitors.
How does Thomas ensure Sprinklr will remain successful? He outlined two rules of thought that he lives by: "path forward" and "future backwards." Thinking "path forward" helps you visualize how to get ahead. Thinking "future backwards" helps you anticipate what's about to happen. Thomas also emphasized how investing in culture was another way they sustain success. At Sprinklr, the company instills five core values:
It's OK (to make mistakes as long as you learn and grow from them).
Sprinkle, don't shout (it's not about who yells the loudest; it's about who offers the most value in a relevant, nurturing way).
Fix, don't complain.
Never, ever give up.
Passionately, genuinely care.
Throughout the interview, Thomas offered valuable advice to students and alumni who seek an entrepreneurial career path:
If you don't believe you can do it, then you won't. Everything is about intent.
Confidence comes from practice and patience.
Learn from everyone around you, even if it's what not to do.
Always be clear on what's important to you; make sure you are happy in whatever you pursue.
Watch the full event:
___
This Langone Speaker Series event was co-hosted by Stern's MBA Stern's MBA Office of Student Engagement & W. R. Berkley Innovation Lab