Business and Policy Leader Events
Alvarez & Marsal's Joe Berardino Shares Insights on Crisis Management and Leadership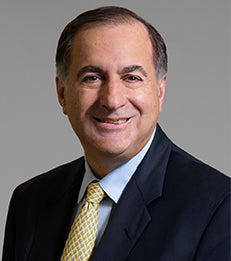 Joe Berardino, managing director of corporate transformation at the global consulting firm Alvarez & Marsal, shared insights on crisis management from his career with MBA students. In a talk titled "Tales in Leadership: Managing Chaos," hosted by NYU Stern
Leadership Development
, Berardino, pointed to his Jesuit education as integral in defining his personal values and stressed the importance of defining core values for individuals and organizations alike.
Berardino became CEO of the accounting firm Arthur Andersen in 2001, and shared his experience leading the firm when two of its biggest clients, Enron and WorldCom, failed the following year. As a leader, explained Berardino, it's important to show you're trustworthy and willing to get into the trenches with your team.
In the aftermath of a crisis, others will respect you for doing the right thing, Berardino said, pointing to the importance of establishing credibility and building trust with clients for professional services organizations. He highlighted emotional intelligence, resilience and effective communication as key traits effective leaders need, and emphasized the importance of clear values and communication. Looking towards the future, Berardino pointed to globalization, information technology and financial regulation as three significant forces shaping the business world that current students will encounter.