School News
Stern Solutions Faces of Change: Meet Eden Ben-Oz (MBA '22), Andre Koo Tech MBA
Through
Stern Solutions
experiential learning courses and projects, NYU Stern students build foundational skills through hands-on courses and company-sponsored projects by solving real business challenges in real time, with the guidance of faculty.
Fun facts about Stern Solutions:
20+ year legacy
30 academic course offerings
100+ corporate partners
11 industries represented
100+ alumni volunteers
Meet Eden Ben-Oz, NYU Stern
Andre Koo Tech MBA
(MBA '22), and learn more about her Stern Solutions project with BigID.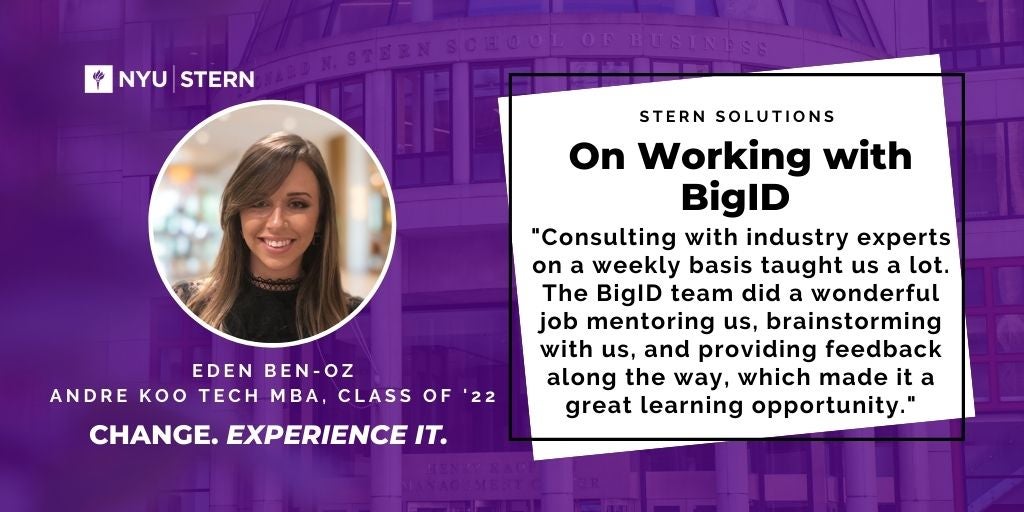 CHANGE. EXPERIENCE IT. Eden Ben-Oz, Andre Koo Tech MBA, Class of '22
Corporate partner:
BigID
is a data intelligence company developing software that helps companies secure customer data and satisfy privacy regulations.
Briefly describe what you were working on with your corporate partner:
BigID launched a University website to teach its partners and customers how to use its Data Intelligence platform. The University offers multiple courses and modules based on the many different roles in organizations, and users struggled to choose the right learning path.
Our project: create an interactive experience that would analyze and identify the user's profile and background, match them with the correct user persona, and eventually offer the best learning path for them. It included extensive research to get a good understanding of BigID products, creating complex decision trees, and designing mockups and prototypes.
Briefly describe the benefits of working to solve a real business challenge?
First, working on a real-life problem gave much more meaning to the project, which in turn brought much more motivation and excitement. Second, because we worked on an existing product, we were truly able to put ourselves in the users' shoes and better understand their pain points. This allowed us to develop better solutions that are more tailored to the specific needs of BigID users.
Lastly, consulting with industry experts on a weekly basis taught us a lot. The BigID team did a wonderful job mentoring us, brainstorming with us, and providing feedback along the way, which made it a great learning opportunity.
Describe your team and how you worked together on the challenge:
Our team consisted of three Tech MBA students with very different backgrounds. This mix allowed each of us to contribute from our own unique experiences and provide a more holistic solution to the business problem.
At the start we had a meeting to set expectations. Each of us shared what we wanted to gain, some wanted to improve existing skills, others wanted to learn new ones. Then we set a high-level role for each team member and defined the different responsibilities.
This was an amazing team project to work on because it allowed us to experiment with different tools, consult with and learn from each other, and improve our skills together.
What was it like to work with a corporate partner throughout the project?
Many of our meetings with BigID were held in their NYC offices, which really created an inclusive experience; we had corporate email accounts, received company swags, and were treated as if we were BigID employees.
Throughout the project, we conducted weekly check-ins, and the team was very accessible to answer questions and brainstorm ideas. We all worked together towards the same goal — solving user pain points and providing the best user experience to BigID's partners and customers.
For our final presentation, we were invited to the BigID offices to present our project to multiple stakeholders and managers from the company. This was a very exciting meeting, and everyone was very pleased with the results.
Working on this project truly felt like an internship — we had a great team of mentors, learned a lot, gained more experience, and created great connections with people from the industry.
Describe the faculty support you received throughout the project and how it was helpful.
Throughout the project, we had periodic check-ins with the Experiential Learning team to consult about our project solutions, get objective opinions from a fresh set of eyes, and discuss the logistics, timeline, and client relationship.
Just like in every job, we had the opportunity to do a 360 review, in which halfway through the project we received and gave each other feedback, with direction from a faculty member. This session was very valuable, and it strengthened us both as individuals and as a team.
What key learnings will you take from this experience in your career?
For this project, we needed to work with different planning and UX tools that were extremely useful, and I will definitely use them and the skills I've developed working on them in my career.
In addition, it was a great opportunity consulting for and working with an external client, and I have learned a lot about client relationships and how to manage them properly.
Lastly, this was an excellent experience to build an end-to-end product at a fast pace in a new industry. I have learned that with the right people, you can bring any new product to life even in a relatively short amount of time.