Stern Solutions Faces of Change: Meet David Restrepo (MBA '22), NYU Stern Andre Koo Tech MBA
At NYU Stern, students can enroll in the
Endless Frontier Labs
(EFL) MBA course and get hands-on experience working with some of the most cutting-edge scientific startups in the world. These companies are working on problems like finding a one-time cure for HIV or creating innovative augmented reality platforms that are at the frontiers of the Metaverse. 
"When founders come to us, they have brilliant technical solutions to technical problems," said Professor
Deepak Hegde
, who founded Endless Frontier Labs and is also Director of the School's Berkley Center for Entrepreneurship. "We help turn the technical solutions into societal impact."
After graduating, some MBA students have even gone on to work for EFL's startups, a stark difference from most traditional MBA programs that typically prepare students to take jobs at more established companies. 
Now, within five years of its founding, startups within EFL have raised over $1B in venture capital, already counting a Unicorn among its ranks.
To date, 160 MBA students have gone through the course, which admitted just 23 students in year one. Today, the EFL course is oversubscribed and admits only about 60 students each year, turning down several students through a competitive application process.  
The classroom innovation has earned Hegde some prestigious recognition: Hegde's Endless Frontier Labs MBA course was chosen as the winner of this year's Innovation in Entrepreneurship Pedagogy Award from the Academy of Management Entrepreneurship Division. 
Meet David Restrepo, NYU Stern Andre Koo Tech MBA (MBA '22), and learn more about his experience in this unique class working with startups as a part of Stern's Endless Frontiers Lab.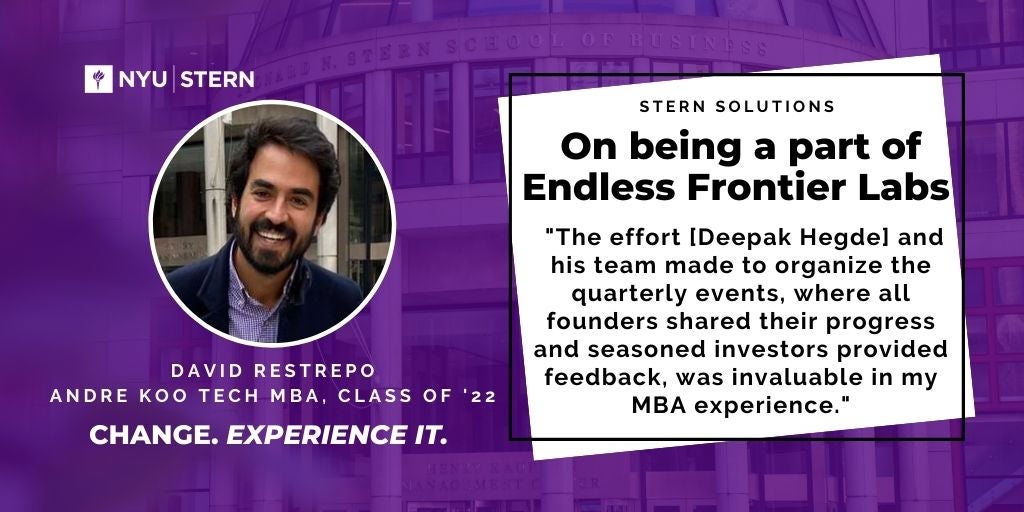 Name:
David Restrepo
Employer: 
TRIPP
Name of the experiential learning class you were enrolled in:
Endless Frontier Labs
(EFL)
Faculty name:
Deepak Hegde
, professor, Chen and Yao Family Director and founder of EFL, and director of the Berkley Center for Entrepreneurship
Startup you worked with:
TRIPP
What motivated you to take the EFL course? 
As an entrepreneur, working with other startups was very appealing to me. I wanted to learn from the founders' experience, their startup journey, and their vision. In addition, I started my career in Microsoft and then dedicated myself full time to my own company, but I never worked in a venture-backed startup with major growth potential. I wanted to learn about the challenges of raising money, how to grow with limited resources, and how to build and scale a venture.
Briefly describe what you were working on with your startup: 
The main projects I worked with TRIPP were:
Helping define the pricing for a new product.
Providing feedback on the digital marketing strategy, focusing on Facebook Ads campaigns.
Identifying and sizing the total addressable market, the service addressable market, and the service objective market.
Doing market research for a new segment in a new market.
Provide feedback on the Series A pitch deck.
It is worth mentioning that I was able to decide on my projects as the founder and I have been open and aligned on our interests and needs since the beginning of the program.
Given EFL's mission, briefly describe the benefits of working with a startup that has the potential to massively scale:
It's very empowering, eye opening, and motivating. From an entrepreneurial perspective, it was valuable to work closely with the founders, as they shared their knowledge, tips, and the mission for the company. From an investor perspective, it was important to understand the key criteria to invest in early-stage startups, and how to differentiate great startups from good ones. Finally, from a business perspective, it was crucial to experience the accelerated pace, unknowns, and challenges of a startup that has the potential to massively scale.
What was it like to work directly with the TRIPP founders throughout the course? 
It was the highlight of my MBA experience! Nanea Reeves was very open to sharing information, inviting me to company meetings, connecting me with key people at TRIPP, and explaining the strategy of the company. We met on a weekly basis and discussed a long list of fascinating topics that expanded my knowledge.
Describe the faculty support you received throughout the class and what you learned. 
I appreciated very much the insights on entrepreneurial strategy that Professor Deepak Hegde shared with us and his openness to provide advice on our own ideas. The effort he and his team made to organize the quarterly events, where all founders shared their progress and seasoned investors provided feedback, was invaluable in my MBA experience.
Were there any "lightbulb" or "ah ha!" moments during this experience?
I wouldn't say that I had a specific "ah ha!" moment, but a whole semester where I truly understood what makes a startup stand out.
At the end of the course, you pursued and accepted a job with TRIPP. What led you to that decision and what are you excited for in your new role?
Before starting my MBA, I defined my life's purpose as helping people reach their highest potential. After graduation I wanted to take a step forward in that direction and TRIPP was the perfect match because I believe that mental health is key to being the best version of ourselves. In addition, working at a startup that gives me the ownership and freedom to create is very motivating and aligns with my career interests. Finally, I'm excited for my role as a Product Manager focused on retention and conversion because it will let me apply my business, product, and entrepreneurial skills in a field that I feel passionate about.
---