Research Center Events
Conversations on Urbanization: Shlomo Angel and Joan Clos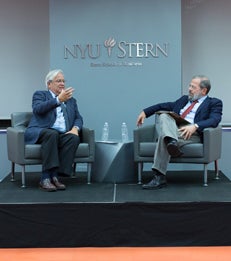 There is now huge urbanization without industrialization, without formal jobs. --Dr. Joan Clos
As a part of the Conversations on Urbanization series held by NYU Stern's
Urbanization Project
, Senior Research Scholar Shlomo (Solly) Angel spoke with Dr. Joan Clos, United Nations Under-Secretary-General and Executive Director of UN-Habitat and former mayor of Barcelona, in a public presentation on December 9. During the conversation, they addressed the importance of street planning in preparation for the vast urban expansion expected over the next few decades.
Dr. Clos discussed why cities, particularly those in the developing world, have been expanding spontaneously rather than planning street grids. "This [street planning] is not the fashion. The fashion is in zoning and master planning," he observed, noting that planners in New York City were not concerned with zoning when they created the city's grid in the early 19th century. He also stressed the necessity of setting aside land for public use, noting that 36 percent of the land in New York City is allocated to streets, versus an average of 10 percent in Africa. Angel added that the justification for public space has disappeared with an expectation that markets will solve all problems, and he observed, "The one thing markets have not been able to solve is the street system."
Dr. Clos also discussed the challenges facing UN habitat. "There is now huge urbanization without industrialization, without formal jobs," he noted, citing new forms of urban poverty, strong mafias and the emergence of gated communities.