SWIB Conference 2023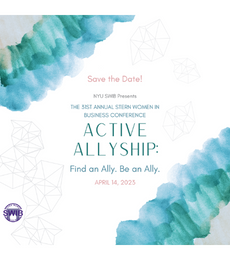 Date: Thursday and Friday, April 13-14, 2023
Time:
Workshop: Thursday, 4:30-5:30pm

Happy Hour: Thursday, 5:30-7:30pm

Conference Day: Friday, 11:30am-4:30pm
Location: NYU Stern School of Business – 44 W 4th Street, New York, NY
This year's SWIB Conference will be about Allyship! We'll be taking a 360 view of the topic and discussing not only how women need allies, but also how women can be allies. We intend to foster conversations with two goals in mind – educate and actualize. First, we look to grow our understanding of allyship by examining the role intersectionality plays in defining the type of allies we need to be. Second, we hope to make allyship actionable by discussing how to use power in service of others. 
The Conference will feature speakers from a variety of backgrounds including advocacy experts, business professionals, and professors specializing in inclusivity. In addition to professional diversity, the Conference will prioritize speakers representing a variety of life experiences and identities in terms of race, age, ethnicity, and gender.
Audience: The conference day audience includes 150 participants, including current Stern students, alumni, corporate partners, and neighboring business schools. The conference workshop audience includes 72 participants, consisting of only Stern students, as the business school intends to kick off the conference with internal reflection and action.
Registration Link: https://cglink.me/2c4/r1925523
---