Press Releases
Profs. Richard Sylla and Yacov Trope Among NYU Faculty Elected as 2012 AAAS Fellows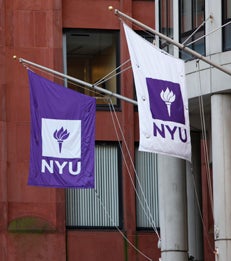 Eight NYU Faculty Join Hillary Rodham Clinton, Jeff Bezos, and Clint Eastwood as 2012 AAAS Fellows
Election to the Academy is both an honor for extraordinary accomplishment and a call to serve ...
Eight NYU Faculty Join Hillary Rodham Clinton, Jeff Bezos, and Clint Eastwood as 2012 AAAS Fellows
The American Academy of Arts and Sciences (AAAS) has elected eight New York University faculty as fellows: Crispin James Garth Wright, a professor of philosophy; Yacov Trope, a professor of psychology; Danny Reinberg, a professor of biochemistry and molecular pharmacology, NYU School of Medicine; Elizabeth Phelps, a Silver Professor of Psychology and Neural Science; Paul Boghossian, a Silver Professor of Philosophy; Richard Sylla, Henry Kaufman Professor of the History of Financial Institutions and Markets at NYU's Stern School of Business; Daryl Levinson, David Boies Professor of Law at NYU's School of Law; and Marvin Trachtenberg, Edith Kitzmiller Professor of Fine Arts at NYU's Institute of Fine Arts.
Read the full release
here
.