Business and Policy Leader Events
Larry Bossidy Tells NYU Stern Students to Take Risks
Lawrence A. Bossidy, former chairman and CEO of Honeywell International Inc. and AlliedSignal, and former vice chairman and executive officer of General Electric Company, advocated taking charge of your career, taking risks to get ahead and maintaining a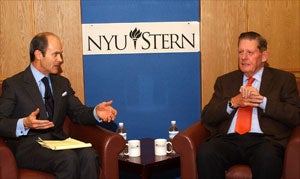 healthy work-life balance at NYU Stern's CEO Series on Monday, November 15. Geoffrey Colvin, NYU Stern MBA '83 and Senior Editor-at-Large at Fortune, interviewed Mr. Bossidy on his new book, Confronting Reality: Doing What Matters to Get Things Right, and his experiences leading three Fortune 100 companies.
In front of a large audience of NYU Stern students and alumni, Mr. Bossidy shared his own management philosophy and discussed some of the global challenges businesses face today, such as trying to stay ahead of the competition, employee retention and motivating employees. Drawing from his five-decade career in business, Mr. Bossidy also reflected on some of the timely business issues in the news: In response to the mounting public pressure, he foresees the pharmaceutical industry will reduce its prices on prescription drugs; he thinks large retailers, such as Wal-Mart, hurt the creation of small businesses because they can't compete with the large retailers; and while he sees the necessity for CEO compensation exit packages to recruit top talent, he was critical of the excessive pay these packages often include.
Click here to see Mr. Bossidy's interview in its entirety
. (RealPlayer required)
Biography for Mr. Lawrence A. Bossidy
Lawrence A. Bossidy is the retired Chairman of the Board and CEO of Honeywell International Inc., a global $24-billion advanced technology, controls and manufacturing company. He became Chairman in 1999 following the merger of AlliedSignal and Honeywell. Prior to the merger, he served as Chairman and CEO of AlliedSignal, and is credited with transforming it into one of the world's most admired companies. A number of senior executives who served under him are now CEOs of major companies. He retired from Honeywell in 2000, but was brought back as Chairman and CEO the following year to stabilize the company following General Electric's unsuccessful attempt to acquire Honeywell.
Mr. Bossidy's distinguished five-decade career in business began when he joined GE's financial training program in 1957. For the next 34 years, Mr. Bossidy served in a number of executive and financial positions including Chief Operating Officer of General Electric Credit Corporation, Executive Vice President and President of GE's Services and Materials Sector, and Vice Chairman and Executive Officer of the General Electric Company.
Mr. Bossidy and his co-author, Ram Charan, recently published Confronting Reality: Doing What Matters to Get Things Right, a sequel to his best-selling book, Execution: The Discipline of Getting Things Done. Mr. Bossidy was named CEO of the Year by Financial World magazine in 1994 and Chief Executive of the Year by CEO Magazine in 1998. He graduated from Colgate University in 1957 with a B.A. in Economics and serves on the Boards of JP MorganChase, Merck & Company and Berkshire Hills Bancorp Inc.
---